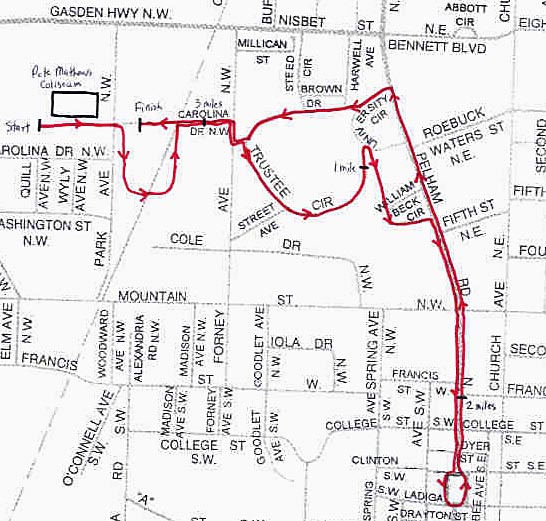 Gamecock Gallop Homecoming 5K Course
JACKSONVILLE -- October 2, 2002 -- Dr. Jim McLaughlin of the Department of Health, Physical Education and Recreation invites you to participate in the Gamecock Gallop Homecoming 5k Event, which begins at 8 a.m. on Saturday, November 9. Participants will gather at Pete Mathews Coliseum.

The cost is $5 for JSU employees and $10 for community participants or $15 for everyone on the day of the event. T-shirts and awards will be given to the top finishers.

"This is not just a race," says McLaughlin. "We want everyone to participate -- feel free to walk if you like."

Participants are also invited to join training groups, which will be meeting on Mondays, Tuesdays and Thursdays in the Coliseum lobby at 4:45 p.m. The training group will gradually work up to completing the entire course.

For more information, please contact McLaughlin at Ext. 8014.