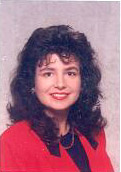 Dr. Lori Owens
Abby Knight
JSU News Bureau

JACKSONVILLE -- October 1, 2002 -- With the whirring of the fax machine last May, Dr. Lori Owens' summer plans were drastically changed. The assistant professor of political science at Jacksonville State University is also the academic associate to the Atlantic Council, a nonpartisan network of leaders who work to promote constructive U.S. leadership and engagement in international affairs, based on the central role of the Atlantic community in the current world situation. The Council sponsors a study tour every year.

"This year they had 14 slots for the United States," explained Owens. "I applied for it thinking, well, what the heck, may as well apply."

Mid-May she came to school and received a fax informing her of her selection. In July, Owens met with the other 13 academic delegates in Brussels, Belgium, where NATO is headquartered.

NATO is the North Atlantic Treaty Organization, which was signed in Washington D.C. on April 4th, 1949, creating an alliance of 12 independent nations committed to each other's defense. Presently the Alliance has 19 member countries. This summer's Atlantic Council study tour focused on the relationship between NATO and the European Union.

Owens was able to spend two days at NATO, two days with the European Union, a day at the European parliament and a day with some of the think tanks in Brussels that work with U.S. and European relations. Topics discussed included NATO enlargement, enlargement of the European Union and Russia's status in NATO.

"One of the major topics was that the U.S. has for some time wanted the Europeans to devote more money to their own defense--spend more on their military," explained Owens. "They don't want to do that because they have large social-welfare spending there and they don't want to cut that. What ultimately will happen is that if they don't spend that military money, they're not very worried about it, because they know we will defend them because it's in our interest to do so."

Two other key topics were the situation with Iraq as well as the conflict in the Middle East.

"It was such a wonderful, in-depth, hands-on, insight into how NATO operates," Owens said of the tour.

"In terms of what I gained, I was able to see the actual workings of what actually goes on. I mean, there were off-the-record comments from ambassadors and negotiators and people that are actually making policy. It's not like what you find in a textbook. This was real-world-how-diplomacy-works and NATO and the European Union."

She went over there with two goals in mind: to gain information to share with her students as well as make connections so that a study abroad program could be set up for JSU students.

The trip was Owens' first to Europe and she spent an extra two weeks there touring on her own.