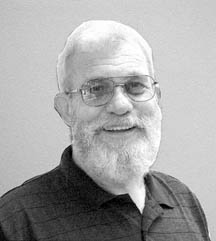 Burt Arthur
JACKSONVILLE -- September 25, 2002 -- Burt Arthur, a retired command sergeant major, has been around hardened criminals most of his working life. During his 30 years in the military, Mr. Arthur served three tours of duty at Fort Leavenworth, Kansas, home of the United States Disciplinary Barricks, the only long-term, maximum-security prison run by the Department of Defense. Incarcerated at the fort are roughly 500 armed services personel convicted of serious offenses.

Mr. Arthur admits there was nothing much he could say to encourage men confined for life or awaiting the death penalty. But now his circumstances are different. Instead of being jaded by his years spent housing dangerous felons, Mr. Arthur works to inspire hope. He is the program manager at Coosa Valley Youth Services' Camp Robert E. Lewis in Anniston, a 30-bed boot camp facility for juvenile males that attracts a fair number of Jacksonville State University interns.

"We don't run Camp Lewis the way that you may have seen it on television," explained Arthur. "We teach many, many things to the young men while they're with us, not the least of which is respect for our fellow human beings. And we have to send a lot of time on that part because so many young men today don't know what respect is. "

The camp is under the umbrella of Coosa Valley Youth Services, a 12-bed facility for young women, and a detention center, which includes a 48-bed facility that houses 36 young men and 12 young women.

As program manager, Arthur works not only with his 24-person staff, but with the judicial system as well.

"I do a lot of coordination with the courts, the chief probation officers, the juvenile court judges. I advise the courts and the judges as well. I advise my staff of which I have 24 employees. I conduct eliminations; that is to say, if a young man is not progressing through the program successfully, then I am the president of the board that decides what's going to happen to the young man."

He also acts as an advisor to the executive director and assistant director of Coosa Valley Youth Services. The Fort Lewis' "commandant" enjoys sharing what he feels is the best part of his job.

"Probably the most fun part of my responsibility as program manager is working with my staff. I am blessed with the best staff that a program manager could ever want. They're experts in their particular fields."

The staff includes a fulltime schoolteacher, a fulltime teacher's aide, an after care case manager, an after care coordinator, as well as a support staff, a maintanence staff, a cafeteria staff, and a medical staff. In addition, there are the uniformed juvenile training officers, who are responsible for the supervision of the young men.

"All of these people work together with one goal in mind, and that is to make an effective positive change on the young men that we see. "

To enter the 90 day program, a male between the ages of 14 and 18 must be court ordered to do so, providing they have not committed any sexual offense.

"For the young men that are successful, those that have completed the 90-day program and met all the standards during that 90-day period, we have a graduation for those ten young men every 30 days at Camp Robert Lewis. And it is a major, major event in their lives. For a lot of the young men it's a life-changing event. It's recognition that they have done a super job."

Want to know more or tour the facility? Contact Burt Arthur at 236-7190.