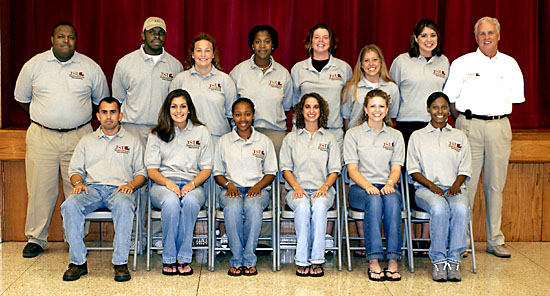 Pictured, front row, from left, James Vasquez, Ashley Orton, La toya Granger, Melissa Criswell, Lindsey. McWilliams. Back row, Fred Mays (advisor), Willie Diggs, Erin Smith, Natasha Cunningham, Krychelle Parker, Leah Goggans, Heather Horn, Rickey Naugher (advisor). Not shown: Sonquez Williams, Toccara Johnson.



JACKSONVILLE -- September 23, 2002 -- This is the second year that the Peer Educators program has been offered at Jacksonville State University, sponsored by Counseling and Career Services. The program is designed to increase awareness of changing student health and safety issues. The program focuses on the development and promotion of positive lifestyles and decision-making skills.

The program goals are to help other students recognize the link between alcohol abuse and other related issues such as HIV/AIDS, grief, and depression. The Peer Education Program is based on peer-to-peer interaction to promote a healthy campus environment.

Peer educators are required to complete a minimum of seven presentations each year on campus and in the community. They participate in orientation, Get on Board Day, Alcohol Screening Day and Alcohol Awareness Week.

The 2002-2003 Peer Educators are Sonquez Williams, Toccara Johnson, Willie Diggs, Lindsey McWilliams, Ashley Orton, Heather Horn, Kychelle Parker, Leah Goggans, Melissa Criswell, Alesha Ingram, Latoya Granger, Erin Smith, Natasha Cunningham and James Vasquez.

Interested in the peer educator's services? Please contact Rickey Naugher, Todd Prater or Fred Mays at (256) 782-5475.