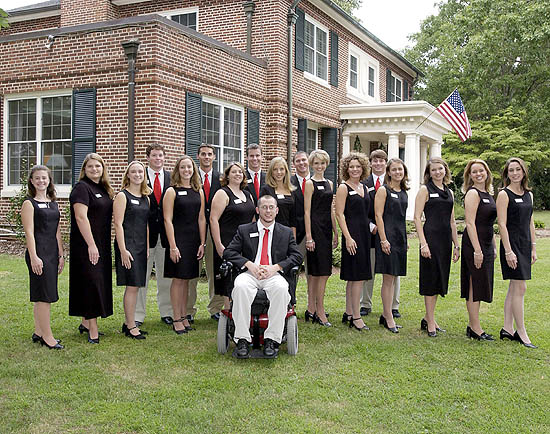 Front row: Josh Gardner. Second Row from Left to right: Jennifer Downs, Shelley Capes, Brooke Bell, Sheri Ingram, Candace Burns, Katie Clifton, Kacee Kirkland, Katy Skinner, Kristin Rawlins, Cambrey Jordan, Alison Pierce, Emily Williams, Alisha Ingram. Back row from left to right: Brad Brown, Ben Carroll, Andy Green, Jonathan Smalley, Andy Pody. NOT PICTURED: Dianna Okwengu, Mardracus Russell.



Abby Knight
JSU News Bureau

JACKSONVILLE -- September 17, 2002 -- Nearly two dozen Jacksonville State University students and their parents were recently welcomed into the President's home by Dr. and Mrs. Bill Meehan for a reception. The 20 students had been working since last May to help others start the year off right. The JSU Ambassadors serve as the official representatives of JSU and assist in on-campus recruiting events. JSU Ambassadors also serve at graduation, presidential functions, board of trustee meetings, career fairs and Preview Days. Most importantly, they serve as JSU's ambassadors to prospective students, traveling to area high schools with admissions counselors to give high schoolers a perspective on JSU.

Already, the 2002-2003 Ambassadors have helped with the President's faculty picnic and "Get on Board Day." They have also started traveling to area high schools.

"This organization works very hard to promote JSU and its recruiting efforts," said Tracy Phillips, who works at the Visitor Center and serves as advisor to the Ambassadors.

To be an Ambassador, a student must have completed at least one full-time semester, have a GPA of at least 2.25 and be currently enrolled as a student taking at least 12 hours. Interested students must then turn in an application along with three letters of recommendations from professors. After that, counselors from JSU's Office of Admissions interview the applicants.

Returning Ambassadors are eligible to apply for one of two Ambassador administrator positions. They also go through an interview process. The 2002-03 Ambassador administrators are Jennifer Downs, a nursing student from Alabaster, and Brad Brown, a chemistry major from White Plains.

"They help guide our organization by keeping up with events and those who will be attending," explains Phillips, speaking on the role of the Ambassador administrators. "They also help keep the Ambassadors current on any changing information about the University and help plan the bi-weekly meetings."

This year's JSU Ambassadors were selected last April. In May, the group held their mandatory yearly retreat at Lake Guntersville.

"It is a very busy time because we are trying to get to know each other and also get lots of information about JSU," said Phillips.

They spent the weekend doing group and one-on-one activities, not only getting to know each other, but the University as well. Future events for the Ambassadors include JSU Career Fairs, Preview Days, and Emerging Leaders Day.

The Jacksonville State University Ambassadors for 2002-03 are Brooke Bell, a Criminal Justice major from Cookeville, Tennessee; Andy Green, a Computer Science major from Piedmont; Candace Burns, an Elementary Education major from Jacksonville; Diana Okwengu, a pre-Business major from Nairobi, Kenya; Kacee Kirkland, a Chemistry major from Dothan; Ben Carroll, a Math major from Sardis; Alison Pierce, a pre-Business major from Boaz; Katie Clifton, a English and Communications major from Oxford; Kristin Rawlins, a Collaborative Education major from Hoover; Katy Skinner, a Communications major from Oxford; Cambrey Jordan, a Political Science major from Birmingham; Shelley Capes, a Family and Consumer Sciences major from Wedowee; Andy Pody, a pre-Business major from Piedmont; Emily Williams, a Math major from Hokes Bluff; Sheri Ingram, a Biology major from Anniston; Jonathan Smalley, a pre-Business major from LaFayette, GA; Mardracus Russell, a Music major from Dadeville; and Josh Gardner, a pre-business major from Sylacauga.