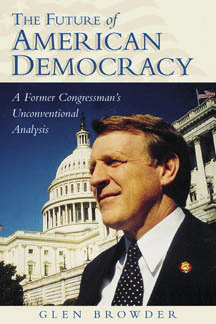 JACKSONVILLE -- August 9, 2002 -- Former Congressman Glen Browder and University Press of America will mark the publication of his provocative new book on American democracy with a signing session this month at the American Political Science Association's annual convention (Aug. 28-Sept. 1) in Boston.

APSA's event is the major gathering place for political scientists, and it represents initial availability and exposure for The Future of American Democracy: A Former Congressman's Unconventional Analysis (due from the printer in late August). Browder, who serves as Eminent Scholar in American Democracy at Jacksonville State University, will follow up the conference with public lectures, academic seminars, and additional signing ceremonies related to the book.

Dr. Browder's book is a challenging statement about the uncertain future of American democracy. While his broad theme is positive and constructive, he believes that America is changing in ways that are important and unsettling for our traditional democratic system; and he speculates rhetorically about whether we have reached the limits of our democratic destiny. As he asks at the beginning of the book: "Is America dying?"

Browder's unconventional analysis is receiving very strong reviews thus far. Former White House Chief of Staff Leon Panetta calls Browder's message "a wake-up call for our democracy"; Dr. Larry Sabato, Director of the University of Virginia's Governmental Studies Center, says that Browder "challenges every citizen, especially the young, to think anew about America's democracy"; and Governing Magazine's Alan Ehrenhalt asserts that "all of his recommendations are worth reading and paying attention to".

The Future of American Democracy (2002) will be available beginning in September at the Jacksonville State University Bookstore, University Press of America's website (www.univpress.com), Amazon.com (www.amazon.com), Barnes and Noble.com (www.bn.com), and other commercial outlets.