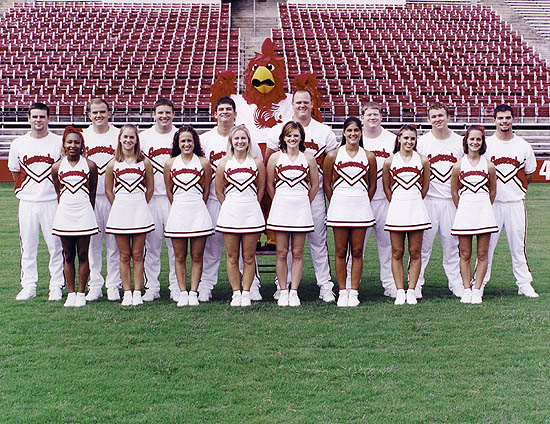 JSU's cheerleaders pictured left to right, front row: Tasha McCullough, sophomore, Woodland; Kelly Amos, junior, Glencoe; Amber Tovar, freshman, Jacksonville; Beth Faine, junior, Rome, GA; Stephanie Bedford, freshman, Anniston; Suzanne Stevens, sophomore, Southside; Dixie Dotson, freshman, Acworth, GA; back row: Micky Hale, senior, Oxford; Lee Estes, sophomore, Ranburne; Josh Marshall, sophomore, Summerville, GA; Justin Sanders, sophomore, Boaz; Brant O'Barr, senior, Lincoln;Ed Strempel, senior, Lillian; Brody Ballinger, senior, Morgan County


Jamie M. Eubanks
JSU News Bureau

JACKSONVILLE -- December 3, 2001 -- For the first time in ten years, Jacksonville State University's cheerleaders will show their spirit and represent JSU at the Universal Cheerleading Association (UCA) Collegiate Nationals in Orlando, Florida. Out of thousands of teams in Division I, only 15 qualified. And JSU is currently ranked seventh. They received this ranking from a video entry. This video entry was judged on a cheer, chant and variety of skills, such as tumbling and stunts.

And though they are practically a new squad, they work well together. "We're always together. We go out together," comments Brody Ballinger, a senior squad member from Morgan County.

Helping to keep them together is Cara McWhorter, of Admissions at JSU, and Jana Bradley, a graduate student at JSU. Because cheerleading is not a "recognized sport," these are not full-time positions.

"This is a strong improvement for us," says McWhorter, "and a big jump for JSU to be ranked seventh out of 15. Half of the team has never competed. And this is a great accomplishment for a group who has not competed together before."

But this "jump" didn't come easy. For the past three months, aside from football games, these cheerleaders have been working on a two-and-a-half minute routine.

"We practice five days a week," says Ballinger. "We have to sacrifice some going home time, especially during basketball season." Ballinger also says it is rare for a first-year team to win, but he and McWhorter are very optimistic.

"Our goal is to finish in the top three," says McWhorter, "but I'm confident we could win." "My personal goal is to make finals," says Ballinger. "That should be no problem. And I think we can make the top three."