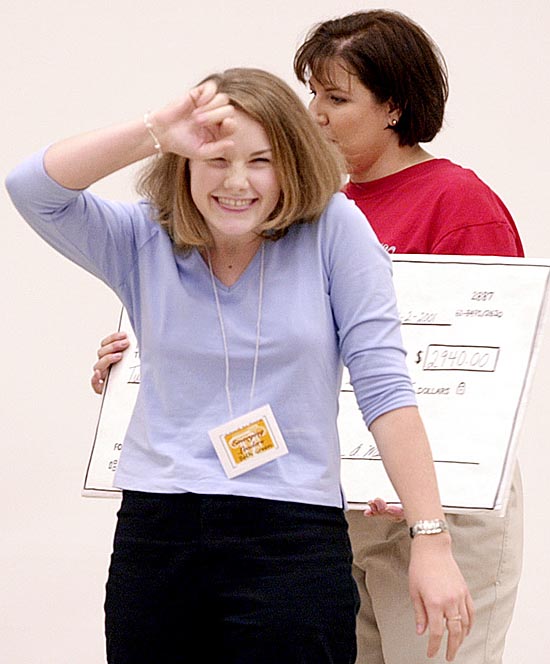 Above, Beth Green of Springville High School reacts to winning a one-year tuition scholarship to JSU. Below, JSU President Bill Meehan presents the check to Beth with cheerleaders Mickey Hale, Jennie Melnick, Tasha McCullough, Brody Ballinger and Kelly Amos looking on.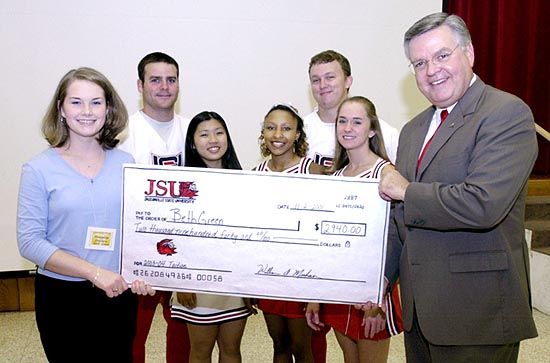 Jamie M. Eubanks
JSU News Bureau

JACKSONVILLE -- November 14, 2001 -- On November 2, Jacksonville State University hosted its second annual Emerging Leaders Day. Approximately 130 juniors from area high schools attended this leadership experience.

At the close of the day, a scholarship and door prizes were awarded. Beth Green of Springville High School received a one-year tuition scholarship to JSU.

These students were nominated to attend by their high school counselors. Selections were based on their leadership skills and their interest in furthering their education.

Throughout the day, students learned how to remain leaders once they reach college. They participated in programs such as "Being a leader of integrity while being in the spotlight," presented by former JSU Student Government Association presidents.

"The program was well received and the students gained a wealth of information to take back to their high schools and communities," says Carra McWhorter, of JSU Admissions.

Students also got a taste of the fun of college life with "Karaoke in the Caf." "We expected these students to be shy while they were on campus. But they had a blast participating in the karaoke," says McWhorter." They also participated in team building activities.