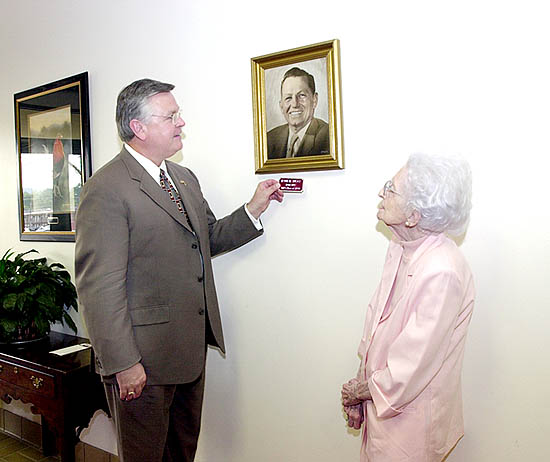 JSU President Bill Meehan positions the name plaque for the portrait of Paul Snow, presented to JSU as a gift by Mrs. Paul Snow, right. The portrait is in the lobby of the University Field House. JSU's Paul Snow Stadium is named in Snow's honor. (Steve Latham Photo)


Al Harris
News Bureau

JACKSONVILLE -- August 30, 2001 -- Paul Snow came home this week.

Mattie Lois Snow, wife of the late JSU alumnus for whom Paul Snow Stadium is named, contributed a photograph of Mr. Snow for the lobby of the Field House.

"Following his death, I had this photograph enlarged. I don't have any children and I was hoping to find a place for the picture. I felt the university might like to have it," said Mrs. Snow, who now resides in Center Point.

JSU President Bill Meehan was on hand to accept the photograph and thanked Mrs. Snow for her contribution.

A 1933 graduate of Jacksonville State Teachers College, the Birmingham native played football with JSU great Barto Hughes. But Snow's real love was helping JSU grow and promoting the sport of football.

After graduating, Snow went on to teach in Jefferson County schools and continued to promote JSU by helping recruit students. He also helped establish scholarships for freshmen.

Snow coached and taught math and science in Jefferson County's Springdale Junior High School for ten years, then left education and entered the real estate and insurance profession.

Throughout the years, Snow continued to support his alma mater. In 1955 he was appointed to the State Board of Education and served as president of JSU's Alumni Association from 1955-56. He remained on the state board until his death in 1957 at age 48.

The late Dr. Houston Cole, former JSU president, once said, "Few graduates of Jacksonville State have returned more to the institution than Paul Snow."

The university honored Snow in 1961 by renaming the "College Bowl" as Paul Snow Memorial Stadium.

Also an alumna, Mrs. Snow earned a master's in education at JSU.