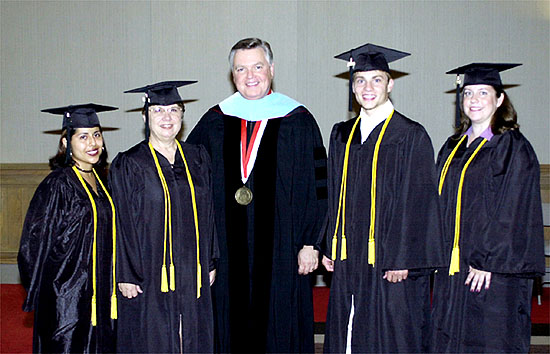 Jacksonville State University's top summer graduates pose with President Bill Meehan shortly before commencement ceremonies August 3. They are, from left, Cynthia Eileen Castillo of Daleville, Linda Fagan Bright of Piedmont, Dr. Meehan, Jared Andrew Holland of Weaver, and Jennifer Suzanne Craft of Talladega.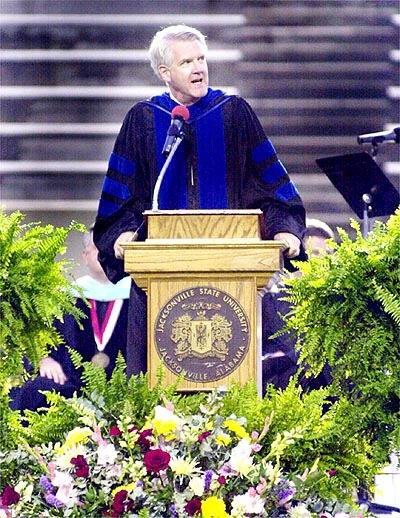 Dr. David Watts, former academic and student services' vice president at JSU who is now president of the University of Texas, Permian Basin, delivers the commencement address.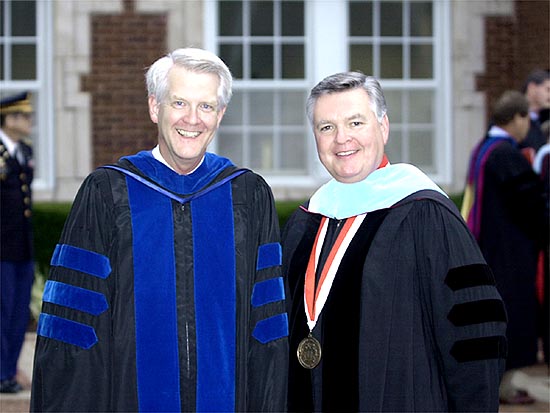 Dr. David Watts, commencement speaker, left, and Dr. Bill Meehan, JSU president, share a moment before graduation on August 3.



AUGUST 3, 2001

COMMENCEMENT

JACKSONVILLE STATE UNIVERSITY



Thank you, President Meehan, for inviting me to speak tonight. I appreciate the opportunity to return to Sweet Home Alabama.

Yes, for the past two months, I have had the privilege of serving as the President of the University of Texas of the Permian Basin. Where is that, you might ask? It's half way between Dallas and El Paso on I-20. The country is flat, hot and windy. Cormac McCarthy, in his novel All the Pretty Horses, describes two characters sitting in a West Texas restaurant. Commenting on the almost constant wind in West Texas, one character says, "I heard that the wind stopped blowing the other day in Amarillo and the chickens fell over."

Here, if I talk too long, we might fall over, so I promise that my remarks will be brief.

Commencement is an important event in the history of Jacksonville State University. Since becoming a university in the late 1960'S, JSU has graduated almost 35,000 people like yourselves. These graduates have gone on to do business all over the world, to teach, to do research, and to lead the state and nation. You are following in the footsteps of men and women of accomplishment. Congratulations.

You graduates are the reason why we are here tonight. But I beg your indulgence to address your families and your faculty for just a few moments.

Family members, congratulations. For the husbands and wives whose spouses are graduating tonight, I want to acknowledge the extra support that you gave your spouse and congratulate you. Without your help, many of our graduates would not have been able to be here. I hope that you are as proud of their accomplishments as they are grateful to you for your sacrifice and patience.

For the mothers and fathers whose children are graduating, congratulations. Thus is a real milestone. It's one of the occasions in life when there is truly great joy. Enjoy it, savor it.

To the faculty, I want to thank you, too--not only on behalf of the graduates and their families, but for myself as well. We shared 8 years together, doing what we dedicated our lives to--the teaching, learning and research process. I want the audience to know how much I respect what you do in a politically uncertain environment, with very limited financial support. You make the University a living, breathing reality. American higher education is the best in the world. You are the reason why. I salute you.

Graduates, this is your night. I want to give you three simple thoughts that I hope you will remember from your commencement.

The first thought is: Be proud and remember who you are and where you came from. Your roots in family, friends, and place have made you much of what you are today. Your successes, that we here are celebrating tonight, have been built on where you have grown up and the relationships that have nurtured you. Because your parents have loved you and disciplined you, because your friends have supported and laughed with you, because you grew up in Anniston, Gadsden or Birmingham, or Tokyo, Hamburg or Sylacauga, Fyffe or Wetumpka, Rome or Cedar Springs, you are successful today. No matter where you go, remember where you came from.

Because you have had to work to get through school, because you have studied, you are where you are today. Because you have done research and analyzed texts, because you have taken tests, delivered speeches, performed experiments, sung a song, played in the band, lived in the dorms, and seen a movie in Montgomery Building, you are who you are today and who you will be tomorrow. You're a Gamecock. You're a graduate of Jacksonville State University. Be proud and remember who you are.

The second thought I want to give you this evening is: Keep on. Keep on plugging, even after you make a mistake. The bigger the mistake, the more you need to keep on. Because we are human, we will make mistakes. When you do, pick yourself up and keep on going. Learn from your mistakes, remember them, but keep on going.

Keep on learning. Some of you may remember when computers occupied the newest, brightest, cleanest and coldest buildings on campus--when they were fed stacks of punch cards, and reels of magnetic tape rolled across them. All that has changed. Today, the computer on your desk or in your lap is as powerful as the ones we used to house in whole buildings. Today you can communicate with people around the world with the tap of a key. You can research new problems via the internet or solve complex equations with your laptop . Think of what you would have missed if you didn't learn how to use one. So, continue learning. We don't know what tomorrow's computer or new technology or new knowledge is going to be. But you will--if you keep on learning.

What Jacksonville State University has taught you, I believe, is not a series of disjointed facts, but the techniques for learning. Many of us have already forgotten how to conjugate a particular verb or the exact formula for the calculation of a correlation coefficient. What we will not forget--what I charge you not to forget--is how to learn, how to answer the key questions in front of you. You are ready to take the next step in your life and career--continuing to learn will help you.

Some of you have already earned more than one degree. You know the true value of what you have learned and what learning can do for you. Those of you who seek to satisfy your thirst for learning will be the pilots of this new age.

The third thought I have for you tonight is: Do the right thing. Apart from being a cliche, what does that mean--Do the right thing? Most often, we know what is not the right thing. Sometimes we are confused about what is the right thing which takes me back to my first and second thoughts: "Remember who you are and where you came from" and "keep on learning." Your roots and the knowledge that you will acquire will help you determine what is the right thing.

You will face decisions, like some perhaps that you have already had to make, that will lift up your heart and soul, while others will test your very limits. You will struggle with what to do. Where you have been, who you are and what you have learned will help you to do the right thing. I have confidence that the education you have received at JSU, your experience and background, and your ability to continue to seek answers to questions will provide a solid foundation for you to do the right thing.

So that's it. Three thoughts for life after the University: Be proud and remember who you are and where you came from. Keep on learning. And do the right thing.

And, now, it is time for me to do the right thing:

Ladies and Gentlemen, graduates, congratulations on a job well done and welcome to a new phase in your lives.

Thank you.