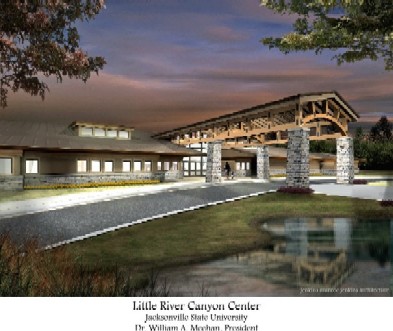 Jacksonville State University to Break Ground and Raise "Now Under Construction" Sign
for Little River Canyon Center



            On Monday, June 11th, residents of Fort Payne and community leaders will raise a sign indicating that Jacksonville State University's Little River Canyon Center is "Now under Construction."  Long awaited by all who have been following its development, the project represents over a decade of fund raising, congressional support, advice from local residents, and many innovations such as an environmentally friendly design.
            "This is a public event and we hope that everybody will come out to help us kick off this eighteen-month construction project" said William A. Meehan, President of JSU.
            The June 11th event will be held starting at 8:00 a.m., on-site near the Highway 35 Bridge. In addition to the groundbreaking and "Now under Construction" sign raising, the event will feature architectural renderings, floor plans, three dimensional models, building materials, a construction schedule and many of the partners who have made this project possible. Parking will be assisted by the DeKalb County Sherriff's office and Alabama State Troopers.
            The Center will be built as a public facility that is centered on the Little River Canyon National Preserve, near the Highway 35 Bridge at the Cherokee and DeKalb County line. It will include a state of the art exhibit hall, meeting spaces, an education store, outdoor walking trails, classrooms, and office space for the National Park Service.
            Scheduled to speak at the 9:00 a.m. event are the following: JSU President Meehan, JSU Trustee Randy Owen, US Congressmen Robert Aderholt, and Bud Cramer, State Senator Lowell Barron, State Representative Richard Lindsey, Commissioner of the Department of Agriculture and Industry Ron Sparks, County Commissioners Sid Holcomb and Brant Craig, Alabama Tourism and Travel Director Lee Sentell, National Park Service Superintendent John Bundy and others.
            "This will be a great time for all to celebrate our getting started with this long awaited construction," said Little River Canyon Field School Director Pete Conroy.  He continued, "We hope and expect that this project will bring economic development, education and a national model for partnership building."
            For more information about the project, visit http://epic.jsu.edu/.
---
Submit items for news releases by using the request form at www.jsu.edu/newswire/request

.