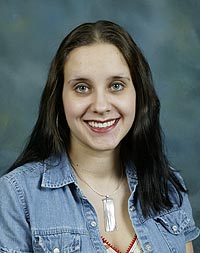 By Victoria Oxley
JSU News Bureau

March 3, 2004 -- Scientists said it couldn't be done, but Jacksonville State University alumnus David B. Runyan defied long-standing scientific thought and brought back the quail population in Tuskegee.

The 1994 biology graduate won the 2003 Progressive Farmer/Rural Sportsman Upland Game Management Farm of the Year award for his work managing Uphapee Plantation, a 2,450-acre private property in Tuskegee, where he repopulated the bobwhite quail (Colinus virginianus).

Runyan was featured in Progressive Farmer Magazine and has been nominated for an honorary doctorate. Governor Bob Riley has proposed that the Alabama Quail Trail be renamed the David B. Runyan Quail Trail. President Bush has been invited to participate in Tuskegee's annual dove shoot and view Runyan's work.

Runyan was hired to manage the property in 1997 and found that the historic site had fallen into neglect, with locals often using it as a drag strip and a dumping ground. More than 60 years ago, the land was used by the Army to house and train young black men to become military pilots, flight engineers, gunners, and mechanics. Many of these men went on to become decorated World War II heroes. Many gave their lives fighting in the war.

When Runyan got to work, he found that the only habitat consisted of weeds that grew up through the old asphalt runways. Still, he welcomed the prospect of transforming the land.

"I've worked on a lot of different pieces of property, and this by far has been the most interesting, purely because of the history," said Runyan, who previously had never heard of the Tuskegee Airmen, but has since studied them and met a few. "You're driving through the woods, and the next thing you know, there's a road, curb, and a sewer drain. It was actually like a city. I'm real proud that I have taken what was once an old city and turned it into a prime wildlife habitat."

Runyan created the habitat through methods such as food planting, prescribed burning, clearing land, and thinning timber. With the land improved, he then set quail loose on the property. His efforts to restore birds to the wild are unconventional.

Quail are usually released at about 12 weeks of age. Most birds are set free in the late summer or early fall. The ones that aren't killed by natural causes or predators are usually killed during the hunting season. Few survive their first winter.

"People think that a released bird doesn't have the ability to survive," Runyan said, "much less proliferate and reproduce."

Runyan did research and learned that 12-week-old birds often lose their survival instincts in captivity. Runyan experimented by releasing younger and younger birds, ranging from ten weeks old to six weeks old. Based on his findings, for the past two years he has been releasing six week old vaccinated, banded birds with amazing success.

Runyan gives the birds a good start by releasing them in heavy cover surrounded by food plots, water and prime habitat. He also helps the birds by trapping and hunting predators such as raccoons, possums, bobcats, foxes, and coyotes.

"The last two years, we have seen a boom in population," Runyan says. "We are seeing a recognizable increase of banded birds. It's very rewarding. I feel like I am making difference. What I've been most excited about is sharing what I've learned and the formula I've come up with for the successful repopulation of quail. I hope people will pay attention and other people will start practicing some of what I have done and achieve their own success."

Runyan's success has brought him offers including endorsement work, a book contract, and an opportunity to travel around the country speaking about his research.