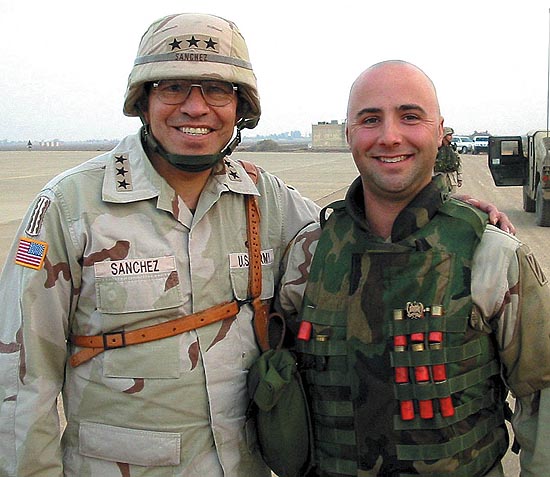 U. S. Army Lt. Gen Ricardo Sanchez, left, with First Lieutenant George French, recipient of the Bronze Star for action in Iraq.

By Sherry Kughn
JSU News Bureau

March 2, 2004 -- The messages Army First Lieutenant George French sends to family over the Internet from Iraq make him seem almost too busy to pause long enough to receive an honor. He slowed down long enough, though, to accept the Bronze Star from the United States Army for his "heroic or meritorious achievement or service." The medal was earned for his actions in Baghdad during the attack on the United Nations compound on August 19, 2003, and for other accomplishments.

French is a 1997 graduate of Talladega High School and received an associate degree from Marion Military Institute. He earned a degree in criminal justice from JSU in 2001. He served in the National Guard throughout his college years and joined the Army after graduation. He completed officers training at the military police training facility at Fort Leonard Wood, Missouri.

French's parents, Linda and Bill Noel of Talladega and Lynwood French and Gina Haynes of Ashland, learned about the honor their son received by e-mail. The ceremony had already taken place, and French asked if they wanted him to e-mail them the actual citation. Of course, they said they did. It is by e-mail that they learn about the day-to-day operations of his platoon.

French is leader of the 549th MP CO. It escorted President Bush when he traveled to Baghdad on Thanksgiving. The platoon often receives such special assignments. They patrol nightly, search for insurgents, and once uncovered a counterfeiting operation. All too often they engage in firefights, ambushes, and raids. French e-mails stories about the food he eats and about the Iraqi people. He said 98% of the Iraqis are kind to them and are appreciative for the protection offered by the soldiers.

The U.S. Army is appreciative, too. In the citation he was commended for being among the first responders to the scene of the attack. He "calmly surveyed the devastating wreckage and began directing his soldiers into the building to rescue survivors."

French was also noted for establishing a casualty collection point and consolidating the available medical supplies. In addition, the citation said that French had distinguished himself by serving as the platoon leader in more than 300 combat patrols and in being aware of the "combat environs of Eastern Baghdad."

French is married to Katya Sokolovskya of the Ukraine. Katya, also a JSU alumnus (2001), is a nurse in the Fort Stewart area.