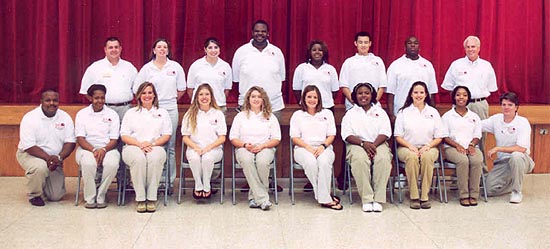 JSU Peer Educators 2003-2004
February 16, 2004 -- For the second consecutive year, Jacksonville State University's Peer Educators have won the Area 8 Program/Event of the Year.

The Peer Educators program is offered through JSU's Academic Center for Excellence (ACE), which strives to enhance student academic success and persistence. Peer Educators are students who perform service in such areas as healthy lifestyle and prevention.

Area 8 includes universities in Alabama, Tennessee, and Mississippi. The Area 8 award was given in recognition of the students' hard work and dedication sponsoring the health fair on campus Sept. 16, 2003.

The Peer Educators for the 2003-2004 academic year are:


Krystal Aaron
Lawrence Barclay
Nathan Bowden
Carlos Brazel
Erica Byrd
Rachel Cleveland
Natasha Cunningham
Courtney Durr
LaToya Granger
Leah Goggans
Heather Horn
Toccara Johnson
Tik Lo
Suzanne Morrow
Krychelle Parker
Miteshia Pruitt
Sierra Sherer
Emily Webb
Julie Williams
The advisors are Rickey Naugher, Fred Mays, Todd Prater and Adam Green, all from the Department of Counseling and Career Services.