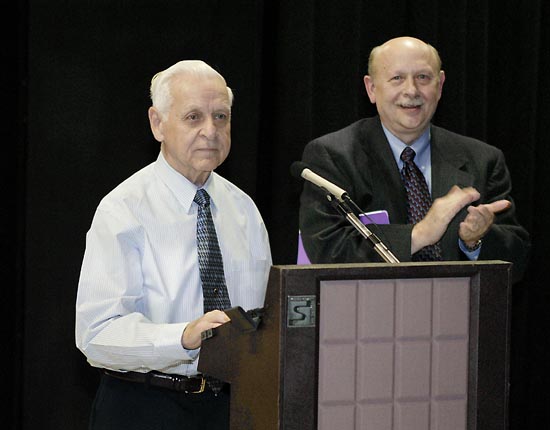 Former Southerners Director David L. Walters, left, reacts to the surprise announcement renaming the music department as the David L. Walters Department of Music. Dr. James E. Wade, dean, right, read the proclamation. (Steve Latham Photo)


By Sherry Kughn
JSU News Bureau

February 13 2004 -- About 350 music majors and well-wishers were present Friday afternoon when Jacksonville State University's music department was named the David L. Walters Department of Music.

Walters, the longtime band director of The Marching Southerners, was surprised at the announcement, which came after a student concert featuring two pianists, a voice major and a flutist. Walters, who retired in 1991, served JSU and Calhoun County in many ways for 30 years.



Staff writer Sherry Kughn is a Jacksonville State University graduate student majoring in English. She works in the JSU News Bureau through the Graduate Assistantship program. She has 12 years news experience at The Anniston Star and served for five years as The Star's executive secretary. Sherry can be reached at jsu7635k@student-mail.jsu.edu.

Dr. Walters, we love you and appreciate everything you've done.

- Dr. Legare McIntosh


"I'm not sure I deserve all those accolades," Walters said about a proclamation read by the Dean of the Arts and Sciences, Dr. James E. Wade. "I do appreciate this, though."

Walters came to JSU in 1961 to become band director of the Marching Southerners, which was founded in 1956 under the direction of John T. Finley of Jacksonville. Finley established the now famous symphonic sound of the band and founded the Marching Ballerinas. Walters, who came to JSU in 1961 from New Bern, NC, took both organizations forward and turned them into model programs.

Walters was also thanked for his work with training hundreds of band directors and music teachers. He promoted chorale music within the community and improved the musicianship of high schools throughout the Southeast with his leadership in judging and taking part in many various music competitions and programs.

Walters started playing trumpet in high school and joined the Navy after graduation. He studied music in the U.S. Navy School of Music in Washington, D.C. and received his bachelor's degree from Miami University in Ohio. He holds a master's degree from Florida State University in Tallahassee and did advanced graduate work at Washington University in St. Louis, Mo. He received an honorary doctorate in 1971 from JSU.

"All of you who are here can say, 'I was there on that day'," said Dr. Legare McIntosh, head of the music department. "Dr. Walters, we love you and appreciate everything you've done."

Walters' fatherly style of instruction and leadership inspired hundreds of students to become band directors and made JSU a leader in teaching the art of band directing. Even now JSU produces about 10 band directors each year. One retired band director in the crowd, Melvin Morgan, said Walters stayed on the leading edge of the trends in music composition and marching styles.

"He is intelligent," said Morgan. "He's a true scholar, always studying, always learning." Morgan said one way to measure Walters' effectiveness is in the strength of the band's alumni organization, The Gray Echelon. It numbers about 4,000 members.

JSU currently has 250 music majors with 25 faculty members running the program. In addition to the nationally known band program, the program boasts an award-winning jazz program with three full jazz bands. The department also has a full choral program with four choral ensembles, a voice program, a piano program, an individual instrument instruction program and a chamber music program. Many JSU band students are also involved with the summer band program of JSU Spirit, a privately-sponsored drum and bugle corps.

With the recent announcement that a new music facility will likely be built in the not-too-distant future, the David Walters Department of Music seems poised for growth.