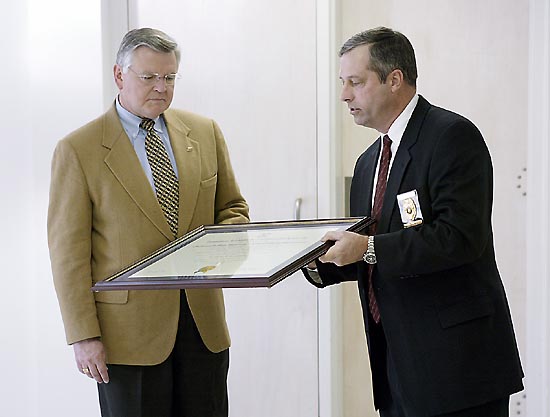 UPD Chief Terry Schneider, right, presents CALEA accreditation plaque to JSU President Bill Meehan. (Steve Latham Photo)


By Sherry Kughn
JSU News Bureau

January 30, 2004 -- "It's been a long three years," said Jacksonville State University Police Chief Terry Schneider, referring to news of his department's reaccreditation. "It's a difficult goal to achieve and a harder one to maintain."

UPD recognized its reaccreditation by the Commission on Accreditation for Law Enforcement Agencies (CALEA) during a ceremony Thursday afternoon at Salls Hall. Chief Schneider, who received official word of reaccreditation from CALEA late last year in Colorado Springs, CO, presented the recently-received plaque to University President Bill Meehan.

An extensive reaccreditation study takes place every third year, and the ceremony marked the department's second reaccreditation. The original recognition came in 1997 when UPD became one of the first university police departments in the state to gain approval by CALEA. This year's process began in earnest last August when a team of CALEA officials visited the department. All aspects of the UPD's policies and procedures, management, operations, and support services came under scrutiny.

Meehan accepted the plaque, along with a letter of appreciation from Gov. Bob Riley, on behalf of the University. Also attending the ceremony were Accreditation Manager Corporal Neil Fetner, JSU police officers, Jim Fuller, JSU athletic director; Dr. Rebecca Turner, vice president for academic and student affairs; and Dr. Marvin Jenkins, acting associate vice president for student affairs.

"The accreditation plaque is beautiful and represents the quality of the Department," Meehan said. "We appreciate what accreditation means. It's very valued."

Meehan also thanked the police officers for their efforts toward accreditation and their work in keeping the campus safe.

"We're proud of what you've become," said Meehan, "Thank you for what you do on a daily basis."

Police departments throughout the nation seek accreditation for liability purposes. CALEA inspects the departments' standard operating procedures to ensure they are sound according to local, state and federal laws. Meeting CALEA standards means that the department's procedures are not only written down but are followed.

Schneider said the department's recently published annual crime statistics show an overall crime rate decrease of 30%.