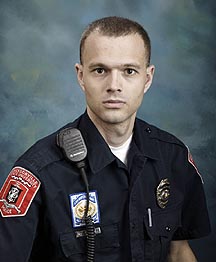 January 9, 2004 -- Jacksonville State University and University Police Chief Terry Schneider announce the promotion of Officer Neil Patrick Fetner to the rank of Corporal.

The Roanoke native, who joined the JSU Police Department in May of 2002, serves as the accreditation manager, public information officer, and cyber crimes investigator.

  Corporal Fetner has a total of five years of law enforcement or related experience. His previous experience includes working as a reserve police officer with the Roanoke Police Department and the Wadley Police Department. Cpl. Fetner also worked for FLAG Financial Corporation in Stockbridge Georgia, in their Administrative Services Division.

Corporal Fetner and his wife Emilee currently live in Jacksonville and plan to make Jacksonville their permanent residence.