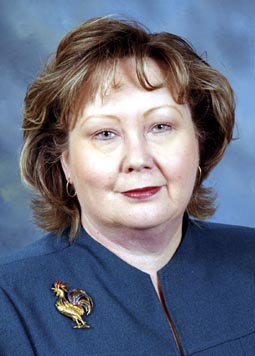 January 5, 2004 -- Judy Harrison of Jacksonville was appointed as Jacksonville State University's assistant director of Human Resources effective Dec 15.

Ms. Harrison has more than 17 years of experience as a human resources practitioner in public and private sector employment, both in generalist and specialist roles. She holds both Bachelor's and Master's Degrees in Business Administration from JSU. Ms. Harrison joined JSU in February 1991 as manager of salary and benefits. She holds a lifetime certification as a Senior Professional in Human Resources from the Human Resources Certification Institute. 

Ms. Harrison has served as the chair of the Alabama College and University Professional Association for Human Resources, director of the Alabama Chapter of the Society for Human Resource Management, and is past president and a current board member of the Calhoun County Society for Human Resource Management. She is active in the community with Girl Scouts and the Jacksonville High School Band Boosters.

She is married to Bob Harrison. Bob is employed in the CT injector division of E-Z-EM, Inc., an international medical products company. They have two children:  Ben, a freshman at JSU and Jennifer, an 8th grader at Jacksonville High School.