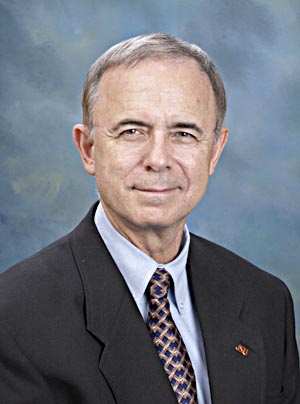 JACKSONVILLE -- June 26, 2002 -- Dr. William "Bill" Fielding of Jacksonville, dean of the Jacksonville State University College of Commerce and Business Administration, has been appointed acting vice president of business and administrative affairs effective July 1, replacing the retiring Don Thacker who leaves the post at the end of June.

JSU President Bill Meehan said today that Fielding "is the most experienced person with JSU's financial affairs outside the division of business affairs," and that he is "pleased that Dr. Fielding is accepting the role, particularly since he has headed the university budget committee since 1987."

Meehan said a search committee hopes to develop a slate of candidates for the position by this fall and that "an appointment can hopefully be made by January or earlier."

Dr. Fielding said, "I am happy to be in a position to assist the university as we approach another fiscal and academic year. The university is blessed to continue its sound footing financially despite some challenges in connection with proration. Thanks to the fine efforts of the retiring vice president, the task at hand is to continue the excellent performance in the business affairs division."

Fielding, professor of finance, joined JSU in 1968, served as head of finance and economics and was appointed acting dean of commerce and business in 1996, then was appointed dean in 1997. A Rockford, Ala., native, Fielding holds a Ph.D. in finance from the University of South Carolina.