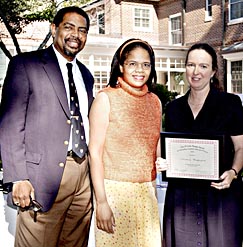 Cleo & Carla Thomas with Kimberly Weatherford



Abby Knight
JSU News Bureau

JACKSONVILLE -- May 20, 2002 -- Jacksonville State University Assistant Professor Kimberly Weatherford received the Cleo and Carla Thomas Award for Outstanding Community Education and Service at the Faculty Recognition Reception on May 14 at the home of University President William A. Meehan.

The Cleo and Carla Thomas Award is designed to honor a faculty member for his or her achievements in the areas of education or service to the civic community in the JSU area.

Weatherford, a Birmingham native, graduated from Auburn University with a Bachelor of Arts in English. She has a Master of Science in Library Science from the University of North Carolina at Chapel Hill. She has been at JSU as a catalog librarian since 1998.

She is a member of the JSU Visual Arts Society and is the faculty advisor for the JSU chapter of Habitat for Humanity.

Weatherford is a member of the First United Methodist Church of Jacksonville and the Wesley Ringers Handbell Choir at the First United Methodist Church of Anniston. She is a member of JSU's Friends of the Library at Houston Cole Library and a member of the Junior League of Anniston/Calhoun County.

As part of the Leukemia and Lymphoma Society's "Team in Training," she completed the Mercedes Marathon (26.2 miles) in Birmingham. Weatherford soared past the minimum goal of $1,000.00 and raised $2,281.20. She is also a participant in the American Cancer Society's Relay for Life.

"I knew I had been nominated," said Weatherford about receiving the award, "but I was shocked. I know there are a lot of deserving faculty at JSU, and I am honored to represent them."

The award is available through an endowment made by Cleo and Carla Thomas of the Anniston area.