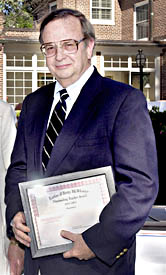 Dr. James B. Allen, Jr.



Abby Knight
JSU News Bureau

JACKSONVILLE -- May 20, 2002 -- Jacksonville State University Associate Professor Dr. James B. Allen, Jr., of the Department of Political Science, received this year's Earlon and Betty McWhorter Outstanding Teacher Award at the Faculty Recognition reception held May 14 at the president's home.

Allen has been at JSU since 1981 and is a member of the American Political Science Association and the Alabama Political Science Association; he was president of the Alabama association in 1997-98.

"Dr. Allen's leadership in the undergraduate program is substantial in the fields of southern politics and American institutions, " says President Meehan. "He is an excellent teacher in all respects."

The award is available through an endowment made by Earlon and Betty McWhorter, who are business owners in the Anniston area.