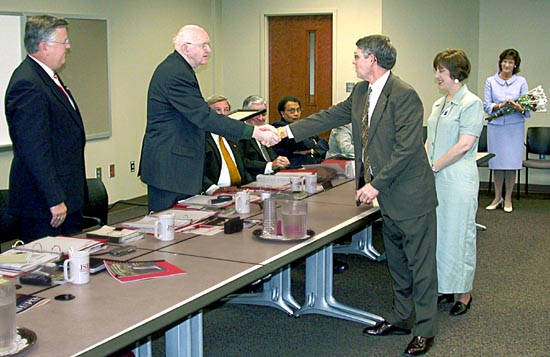 Board of Trustee Chairman Pete Mathews, center, presents a resolution to Don Thacker, retiring vice president for business and administrative affairs, at Monday morning's trustees meeting in Gadsden. Looking on are President Bill Meehan, left, and Mrs. Lisa Thacker, right. In the background is Mrs. Beth Meehan, who presented flowers to Mrs. Thacker. Thacker plans to retire this summer. The board adopted the following resolution in Thacker's honor:



RESOLUTION



Whereas, Donald W. Thacker, Vice President for Administrative and Business Affairs at Jacksonville State University, has announced his retirement effective June 30, 2002; and

Whereas, Mr. Thacker has served this institution in a most exemplary manner since October, 1987; and

Whereas, Mr. Thacker has increased the efficiency and effectiveness of all major financial activities of the institution as a whole, saving the University money and streamlining processes for the greatest savings of time and resources; and

Whereas, Mr. Thacker has served the institution as Director of Internal Audit, Executive Assistant to the President, and finally, as Vice President for Administrative and Business Affairs; and

Whereas, Mr. Thacker has guided these divisions into creating such accomplishments as enhancing the internal telephone voice response options, the bank debit card function, and devoted a large amount of his time to making the financial transactions easier for the students and staff; and

Whereas, Mr. Thacker, being a Certified Public Accountant in the State of Alabama, devoted himself as an accounts examiner with the Alabama Department of Examiner of Public Accounts for fifteen years and then made his expertise available to Jacksonville State University; and

Whereas, Mr. Thacker brought to JSU not only the benefit of the formal training he received through degrees from the University of Alabama and The College of William and Mary but practical expertise earned through a successful career in the private sector, particularly with Newport News Shipbuilding and Tape Craft, Inc.; and

Whereas, Mr. Thacker stated on numerous occasions that his strongest commitment has been to servicing the education and public service needs of our region; and

Whereas, he was committed to public service activities while working with both the Calhoun County and Etowah County Chambers of Commerce;

Be It Therefore Resolved that this President and the Board of Trustees acknowledges that we will surely miss the expertise and experience of Mr. Donald W. Thacker. We wish him the very best in his retirement.

This Resolution presented this 15th day of April, 2002.