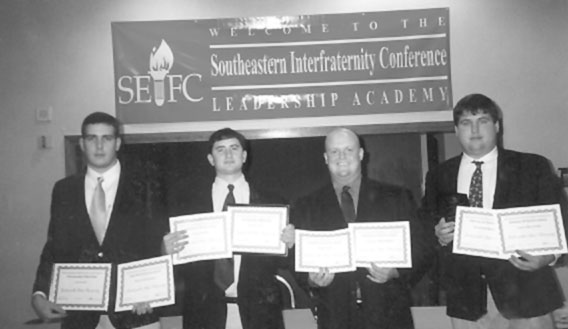 JACKSONVILLE -- February 26, 2002 -- The Interfraternity Council (IFC) of Jacksonville State University attended the Southeastern Interfraternity Conference (SEIFC) Leadership Academy in Atlanta, Georgia on February 21-24, 2002.

The students attending were Chris Betzler, Mark Choquette, Josh Fuller, Stephen Holmes, and Jeremy Sims.

At the Conference, JSU's IFC received several awards: The Fraternal Excellence Award, Awards of Excellence in Public Relations, Chapter Services, Recruitment, Judicial Processes, Publications, Social Programming, Leadership Development, Legal Concerns and Honorable Mention Award for Outstanding Recruitment and Outstanding Risk Management and Judicial Procedure.

M. Stephens Holmes, a senior majoring in Special Education, served the SEIFC executive board for the past year as Area III Vice President representing the states of Alabama, Mississippi, and Louisiana. Terry Casey, Director of Student Activities, is currently serving the executive board as SEIFC Assistant Director.

For more information, contact Mark Choquette, Public Relations Officer for JSU Interfraternity Council ,at (256) 782-5491 or email at itsmemc@aol.com.