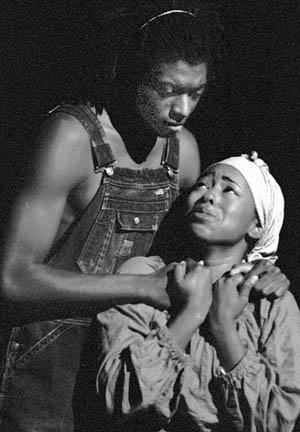 Dr. Anthony Sweeting is shown in the role of
Nat Turner from several years ago.





JACKSONVILLE -- February 25, 2002 -- Dr. Anthony Sweeting and Nat Turner go way back. Sweeting keeps expecting Turner to leave, and there's a chance that might happen after his next performance at Jacksonville State University.

Sweeting is directing the JSU drama department's production of "The Soul of Nat Turner" on Thursday, February 28, with the curtain going up at 7 p.m. The musical is brought to the community as a joint effort for Black History Month and Kaleidoscope.

"The Nat Turner story came to me as a teenager," recalls the Alabama State University associate professor of theatre. "I was 14 or 15 and in high school theatre. Then, sometime in the 1970s, I auditioned for a part in 'The Iron Hand of Nat Turner,' and it was to be the second time I would play Nat Turner."

The third time came in 1986 at UCLA when Sweeting took a playwriting course. He wrote a play called 'Blood on the Leaves.'

"I did the play at UCLA and thought that would finally be the end of it," he said.

But he was to go on to work on another version of the play in Florida in 1998, and then he was asked to direct the student performance at Alabama State University. The JSU production will include a cast of about 50 and will be one of Sweeting's largest to date.

"I wrote the play in answer to William Styron's book, 'The Confessions of Nat Turner," Sweeting said.

The following account of Nat Turner's role in history was penned by Steve Goldman for The History Buff (http://www.historybuff.com/library/refslave.html):

"Early in the morning of August 22, 1831, a band of eight Black slaves, led by a lay preacher named Nat Turner, entered the Travis house in Southampton County, Virginia and killed five members of the Travis family. This was the beginning of a slave uprising that was to become known as Nat Turner's rebellion.

"Over a thirty-six hour period, this band of slaves grew to sixty or seventy in number and slew fifty-eight White persons in and around Jerusalem, Virginia (seventy miles east of Richmond) before the local community could act to stop them. This rebellion raised southern fears of a general slave uprising and had a profound influence on the attitude of Southerners towards slavery.

"Since the 1790's when slaves rebelled in Santo Domingo and slaughtered 60,000 people, Southerners realized that their own slaves might rise up against them. A number of slave revolt conspiracies were uncovered in the South between 1820 and 1831 but none frightened Southerners as much as Nat Turner's rebellion.

"Nat Turner was born a slave in Virginia in 1800 and grew to become a slave preacher. Gradually he built a religious following justifying revolution against his white masters. He believed that God had chosen him to lead the blacks to freedom. After seeing a halo around the sun on August 13, 1831, Turner believed this to be a sign from God to begin the revolt.

"Beginning on August 22 and lasting for two days, Turner and seventy recruits went on a rampage. They killed Turner's master and fifty-eight more men, women and children. Many blacks did not join Turner because they feared the futility of his effort. The revolt was crushed within two days and Nat Turner managed to escape.

"On October 31, Benjamin Phipps, a local farmer, spotted and captured Nat Turner at gunpoint. On November 5, Turner was convicted of insurrection and sentenced to hang and on November 11 the sentence was carried out."

For reservations and further information, call the JSU Drama Department at 256-782-5648.