JACKSONVILLE -- February 5, 2002 -- The JSU Chamber Singers under the direction of JSU Director of Choral Activities, Dr. Patricia Corbin, hosted a Madrigal Dinner in the Leone Cole Auditorium on November 30th, and December 1st. This event is a popular fund-raiser for the Choral Department.

After the events of September 11th, the Chamber Singers decided to donate a portion of the proceeds of the Madrigal Dinner to the local chapter of the American Red Cross and the Red Cross Disaster Relief Fund. In January the choral ensemble presented Red Cross Executive Director Virginia Dingler with two checks totaling $300.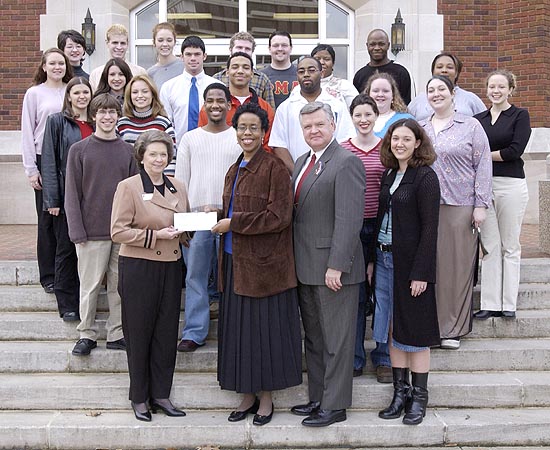 Pictured here are: Top row, left to right: Jennifer Smith, Michael Higginbotham, Kelly Summers, Ryan McKinney, Terrence Johnson. 2nd row from the top, left to right: Julie Ingram, Haley Bowman, Cary Poarch, Matt McDowell, April Guyton, Alexandria Adams. 3rd row from the top, left to right: Haley Muir, Kaylor Willingham, David Rolax, Roderick Johnson, Carrie Morgan, Regina Davis. 4th row from the top, Taylor Bridges, Michael McDonald, Lindsay Wheeler, Judy Holt. In the foreground, Patricia Corbin and President Bill Meehan present the check to Virginia Dingler of the Red Cross.