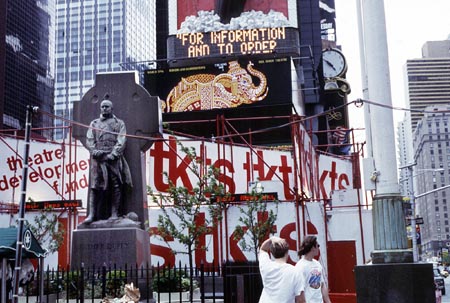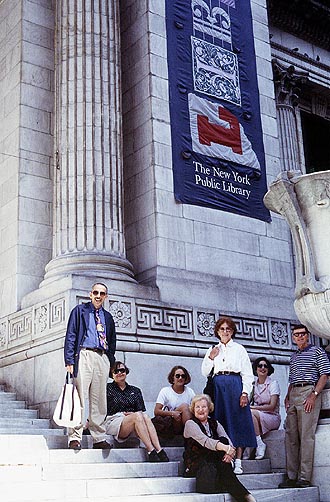 Scenes from the New York Trip



Jamie M. Eubanks
JSU News Bureau

JACKSONVILLE -- January 23, 2002 -- The Iceman Cometh, Death of a Salesman, Kiss Me Kate and A Moon for the Misbegotten--these are just a few of the plays Jacksonville State University's New York Theatre Class have seen live from New York City. These students have also seen the works of Monet and other classic and modern artists.

"I would love to go back," says Andrew Williams, JSU student. "Nothing on television can give you what I experienced in this class. This is something everyone should get to experience."

New York Theatre (EH 484/484G) is a class taught during May Term by Dr. Steven Whitton. Students can also take New York Theatre in conjunction with New York Art Museums (ART 484), taught by Mr. Carter Osterbind, professor of art.

Students may take one class or both. By taking both, the student earns six hours of 400 level credit. Both are taught concurrently to each other. Whitton usually teaches the theatre portion for the first hour and Osterbind teaches the art portion for the second hour.

During the theatre section, students study the plays and their history. But it doesn't truly come alive until the last four days of class, when the class travels to New York City to see the plays live.

Elizabeth Nelson, instructor of English, took New York Theatre as a graduate student. "I had read A Moon for the Misbegotten in class and didn't think I would enjoy it. But it is now my favorite play we saw. We had the best seats in the house. The play was so intimate that I was completely moved."

Possible shows for May 2002 include The Crucible, starring Liam Neeson; a new production of Rodgers and Hammerstein's Oklahoma!; and Sweet Smell of Success, starring John Lithgow.

The same is true with the art class. A student can study a painting in a book, but until it's seen it in its true form it can't be fully appreciated.

While in New York City, students see these works of art in various art museums. The cost of the trip is $1,395.00. This includes travel expenses, lodging (double occupancy), and tickets. JSU tuition must also be paid in addition to the trip cost to receive course credit.

Interested students must sign up with Dr. Whitton or Mr. Osterbind by February 15, 2002, and pay $595.00. The balance can be paid in two installments, prior to the trip, on or before March 15 ($400.00) and on or before April 15 ($400.00). This is so advance reservations can be made. All checks for the trip are payable to MODEL CITY TRAVEL.

For more information, contact Dr. Whitton at 782-5414 or Mr. Osterbind at 782-5661.

"Definitely, go!" says Nelson. "You won't be sorry, you'll be glad you went. It will become your favorite class ever!"