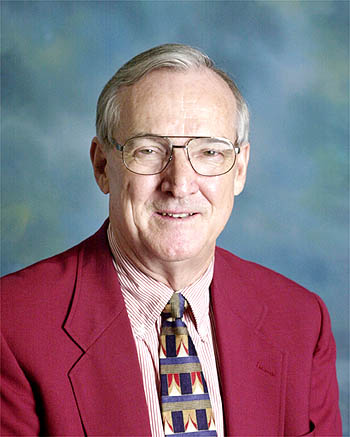 Jamie M. Eubanks
JSU News Bureau

JACKSONVILLE -- May 24, 2001 -- Whether he's teaching others how to better themselves at whatever they do or encouraging his family in their endeavors, David Copeland has always shown others the importance of education. Now after 16 years of service to Jacksonville State University, Copeland is retiring. But before he does, he will be rewarded for his efforts.

For the past 11 years, Copeland has helped build JSU's Continuing Education Department by serving as its director.

"When I came to Continuing Education," says Copeland, "there were only two of us -- myself and a secretary. There were no programs to speak of."

Today, Continuing Education at JSU offers over 500 programs ranging from summer camps for children to golf, photography, management and computer technology. And, while helping the surrounding community, Continuing Education also holds seminars throughout the state and southeast.

He has accomplished this task by developing partnerships between JSU and professional organizations and other universities. By doing this he has been able to assist individuals in their career paths.

Copeland says the most rewarding aspect of his position is "changing people's lives for the better."

In November, the Association for Continuing Higher Education will honor Copeland with an emeritus award for his accomplishments. This award could not come at a better time for Copeland, because he will now retire from JSU.

"It's time," he comments with a smile. "I've had three careers in my lifetime, and, now, it's time to start my fourth -- retirement."

Copeland received a BS degree from JSU in 1962. After doing some foundry work, he came back to JSU to receive his MBA in 1980. From there he worked in accounting and then came to JSU in 1985 to serve as assistant director for management at the Center for Economic Development.

Copeland and his family have lived in Calhoun County for most of their lives. And they are a true JSU family. Jimmie Lou, Copeland's wife, is a retired teacher who also graduated from JSU. Their daughters, Elise and Amy, call JSU their alma mater as well.