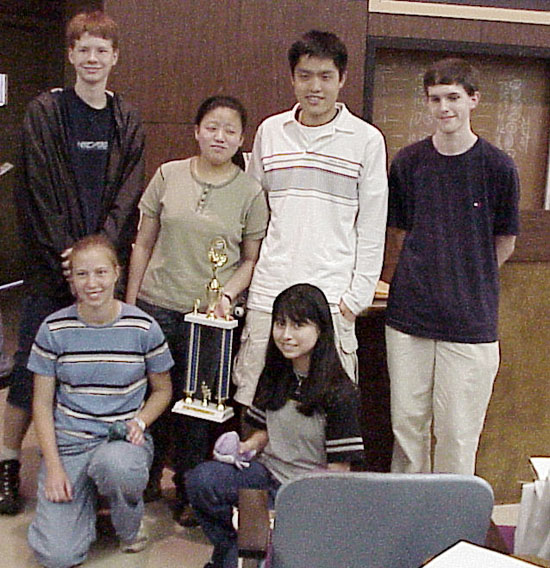 Student winners from Grissom are, front row, Laura Talianko, Carolina Huamani; back row, Eric Mog, Susie Wang, Tony Chang, and Andy Eadon.


---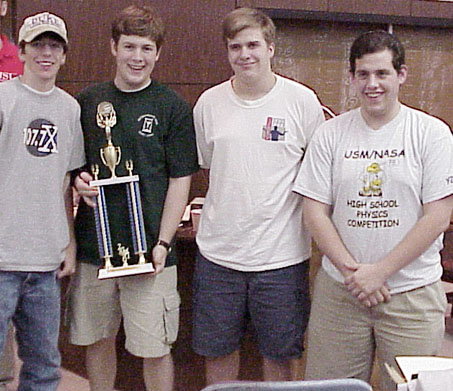 Student winners from Homewood are Hamilton Simpson,
Ted Lester, Peter Merrill and Evan Roseman.
JACKSONVILLE -- April 16, 2001 -- Jacksonville State University held the final round of the annual high school Alabama Statewide Mathematics Contest on April 14. The event was sponsored jointly by the Alabama Association of College Teachers of Mathematics (AACTM) and the Alabama Council of Teachers of Mathematics (ACTM).
This year, 16 teams in Divisions One and Two and 14 teams in Division Three were invited to the final round - a ciphering (Jeopardy-style) tournament. Each school was allowed four students on each team to participate in the competition. Separate competitions were held for each of the three divisions.
Dr. Jeff Dodd of JSU, state coordinator, organized the comprehensive written test, which was held in March and the final round on April 14.
Students competed from schools as far away as Theodore, Alma Bryant and Daphne in South Alabama. JSU instructors monitored the competitions with the assistance of JSU students.
The winners were:
Division One first place winner, Grissom (Huntsville); Division One second place winner, Vestavia Hills; Division One third place winner, Hoover; Division One fourth place winner, Central (Tuscaloosa); Division Two first place winner, Homewood; Division Two second place winner, West Point; Division Two third place winner, Muscle Shoals; Division Two fourth place winner, Cullman; Division Three first place winner, Calera; Division Three second place winner, Sand Rock; Division Three third place winner, Hanceville; Division Three fourth place winner, Good Hope.