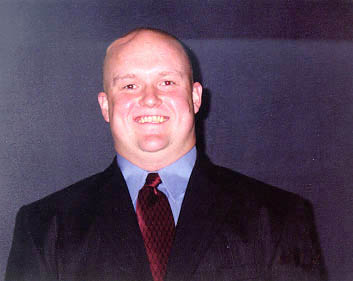 Jamie M. Eubanks
JSU News Bureau

JACKSONVILLE -- March 15, 2001 -- Jacksonville State University is producing leaders. One such leader is Stephen Holmes.

In mid-February Holmes was elected Vice President of the Southeastern Interfraternity Conference (SEIFC). This position involves coordinating communications and meeting the needs of the IFC's in Alabama, Louisiana and Mississippi.

Holmes is well-prepared for this position. He is currently a senior at JSU and is majoring in special education. Holmes serves as Kappa Alpha Fraternity President and Scholarship Chair, Interfraternity Council, JSU Peer Counselor, Up 'Til Dawn Morale Team Captain, Mr. Friendly and Council for Exceptional Children.

Aside from all this, Holmes plays center for the Gamecocks.

He sees this position as a great opportunity to establish a line of communication between the three states' IFC's and to eliminate problems with recruitment.

Holmes is the son of Mary Jane Rainwater and hales from Winston, Georgia.