Jamie M. Eubanks
JSU News Bureau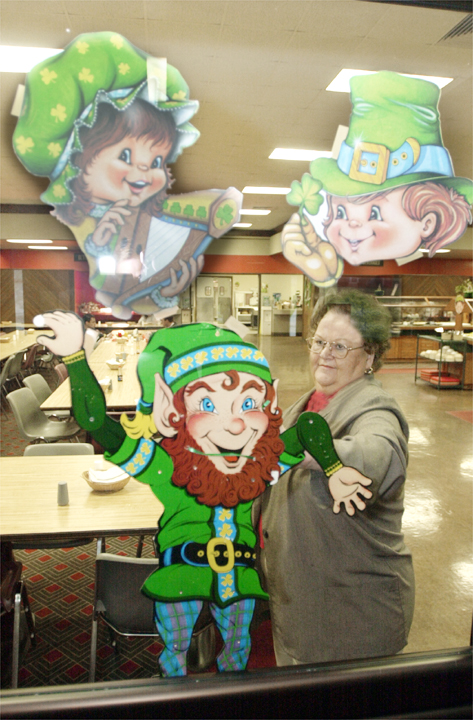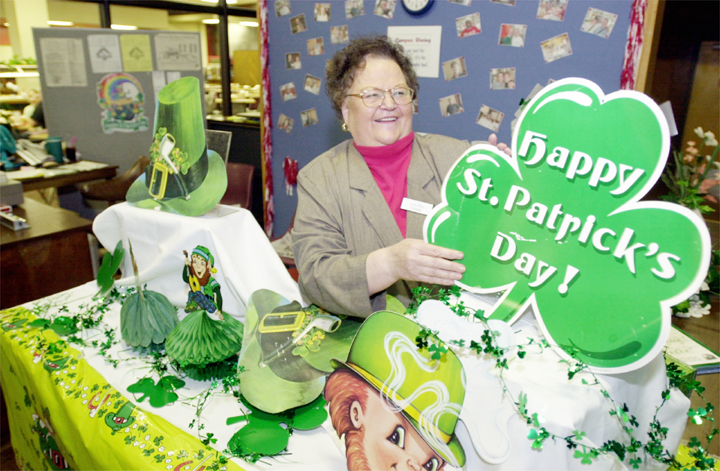 JACKSONVILLE -- March 13, 2001 -- Jacksonville State University may look more festive on St. Patrick's Day than St. Paddy's own homeland. And one lady is taking it upon herself to make it happen.

Due to the threat of devastating livestock disease in Ireland, all of its national St. Patrick's Day celebrations have been canceled. The disease is called foot and mouth disease and can be transmitted relatively easily. There are no effective treatments for infected animals.

But this won't stop Frankie Arnett from decorating JSU's Jack Hopper Cafeteria for the annual green and white day. She is prepared with green and white balloons, streamers, hats and shamrocks.

Frankie has been decorating "the caf" since she came to work at JSU more than 12 years ago. But no one has ever asked her to do it. "Now, if I didn't decorate," says Arnett, "they would wonder if something was wrong."

"We had specials three days a week then," recalls Arnett. "I would come up with some way to make them eye catching."

Then she began decorating for the seasons, holidays and sporting events. And these displays are not just your ordinary crepe paper and letters. Arnett goes all out. She uses balloons, streamers, fruit, and anything else that goes along with the holiday at hand.

She even supports her JSU Gamecocks by fastening red and white streamers throughout the lobby. Arnett tops it all of with a "Good Luck, Gamecocks" sign.

When "the caf" doesn't have the necessary materials to decorate, Arnett simply brings figurines and other materials from home. And she does all her decorating between ringing in customers at the cash register.

Why does she do it?

"These students are a long way from home," comments Arnett. "I want them to feel at home, rather than feeling like they're just in the cafeteria."

And her work seems to be paying off. Students pass by her register after a meal and say, "Thanks, Frankie," or comment on her beautiful decorations.

But it's not just students who notice. Faculty and staff see her work every year during the Christmas and Thanksgiving dinners on campus.

Even though St. Patrick won't be celebrated openly in Ireland, the Saint would feel right at home in JSU's "caf."