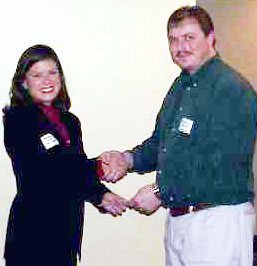 JACKSONVILLE -- January 26, 2001 -- JSU Computer Science major Virginia Wyatt received a $1,100.00 scholarship from the Birmingham Chapter of the Association of Information Technology Professionals (AITP).

In addition to being a member and officer of the JSU student chapter of AITP, Ms. Wyatt is a JSU Ambassador, Marching Ballerina and the 2000 Homecoming Queen.

Darren Baugh of SouthTrust Bank presented the scholarship to Ms. Wyatt at the January AITP meeting in Birmingham. Ms. Wyatt was accompanied to the meeting by AITP advisor Dr. Randy K. Smith and fellow club members Christianne Houston, Isabel Ellis and David Thornton. This marks the second consecutive year that a JSU student has been awarded the scholarship.