Jamie M. Eubanks
JSU News Bureau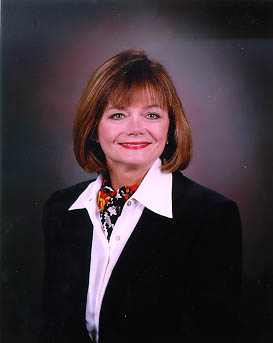 JACKSONVILLE -- January 11, 2001 -- No one detested the teaching profession more than Jacksonville State University graduate and Calhoun County native Millie Bowers Harris. But now she would have it no other way. She's a teacher, but not just any teacher. She was recently named Department of Defense Education Activity (DoDEA) Teacher of the Year for 2001.

Harris' parents were both "professional students." They both spent their summer breaks from teaching attending college. During this time, Harris recalls using her babysitting money to help buy groceries and wearing shoes that were extremely tight because they couldn't afford a new pair.

"The library, historical sights, museums and zoos became my source of recreation because they were free and interesting," comments Harris. These places also became points of education for her. Through these experiences and her parents' love for learning, she developed a great hunger for what they loved.

Yet, she flatly refused to allow herself to chose education as her path. But fate had its own way of guiding Harris.

Throughout elementary and high school, she was an underachiever. She also carried a very low self-esteem. Harris continued her education with this same attitude when she became a freshman at JSU in 1968.

A year later, she married Braxton Harris and dropped out of school. "It was not until I got married and did mundane clerical work in the real work world that I realized what I had thrown away," stated Harris.

In 1978 Harris received her bachelor's degree in special education from Jacksonville State University after having two children and working as a secretary. She then went on to receive a master's degree from UAB in 1981 and an Ed. S. from the University of Alabama in 1995.

Her motto remains, "It's never too late."

Since then she has taught the talented and gifted program at Fort McClellan Elementary School until it closed over a year ago. She took a job at Fort Benning, Georgia, where she now teaches a similar enrichment/talented and gifted program at Stowers Elementary.

Harris has also been a part of JSU's Writing Project Fellows, the Women's Political Caucus, President of the Calhoun County Council for Exceptional Children, President of the Fort McClellan Education Association, State of Alabama Gifted Education Advisory Board and several other organizations.

On the weekends, in what little spare time they have, she and her husband run a business in Anniston.

Harris received the DoDEA award due to her teaching philosophies, accomplishments and activities.

"I work to make school more exciting and pertinent to students' lives than my experience," comments Harris. "My greatest feeling of accomplishment has come from nurturing children's love for learning, teaching them social survival skills, affirming their individuality, and expecting only their best. I teach my students how to think, rather than what to think."

Harris will be relieved of her teaching duties at Fort Benning for half a year to travel to various speaking engagements at bases all over the world, including Europe, Japan, Puerto Rico and the U.S. She will speak on the importance of what teachers do, teachers' mission and identifying gifted students.