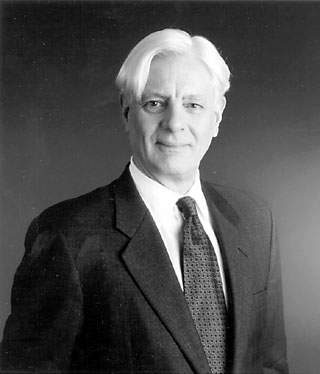 NPR President/CEO Kevin Klose

JACKSONVILLE -- January 8, 2001 -- When it comes to public trust and integrity, perhaps no media organization carries the same clout as National Public Radio, or NPR.

With 600 stations and a weekly audience of almost 15 million, NPR is the pre-eminent nonprofit news and cultural radio service in the United States.

Kevin Klose, president and chief executive of NPR, will deliver this year's Ayers Lecture January 16 at Jacksonville State University's Houston Cole Library. The lecture is open to the public and will be at 2 p.m. on the 11th floor of the library.

The subject of Klose's lecture will be "journalism ethics in the digital age."

Klose is an award-winning author and broadcasting executive with an extensive background in international journalism. He is former editor and national and foreign correspondent for The Washington Post, serving as Moscow bureau chief from 1977 to 1981.

He authored Russia and the Russians: Inside the Closed Society and co-authored four other books. A former Woodrow Wilson National Fellow, Klose currently serves on the board of Eurasia foundation in Washington.

Immediately before joining NPR in 1998, Klose had a six-year stint as a broadcasting chief for the U.S. government in post-Cold War Europe. He served as director of the U.S. International Broadcasting Bureau and president of Radio Free Europe/Radio Liberty, serving Central Europe and the former Soviet Union.

The annual Ayers Lecture Series is jointly sponsored by The Anniston Star and JSU. Started in 1988 to honor Harry M. and Edel Ayers, late publishers of The Star, the lectures bring respected journalists from across the country to discuss current media issues.

Previous lecturers include Doug Marlette, the Pulitzer Prize-winning editorial cartoonist and creator of the Kudzu cartoon strip, Washington Post columnist David Broder and former New York Times editor Gene Roberts.

For further information, contact the JSU Dept. of Communication at 256-782-5300.


---
Article courtesy of The Anniston Star.