JSU Career Services Prepares Students for Life After Graduation
05/08/2020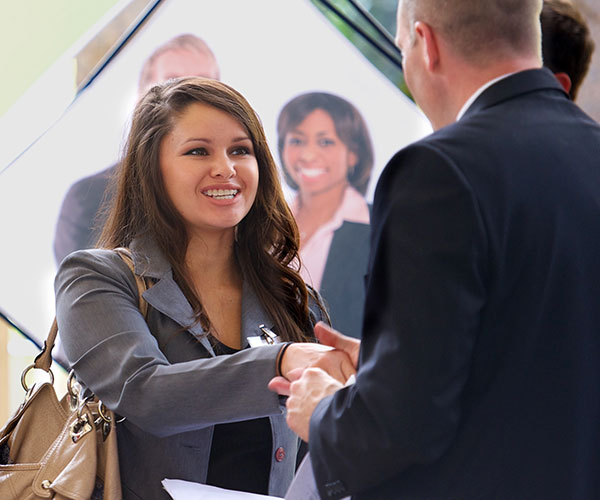 A student explores her future at the JSU Career Fair.
Eli Jenkins' name is familiar to every fan of JSU football. As a four-year starting quarterback, he led the Gamecocks to three consecutive Ohio Valley Conference championships and a national championship appearance. But when his career in the NFL came to an end, he – like many students after graduation – was confronted with a single, overwhelming question: What do I do now?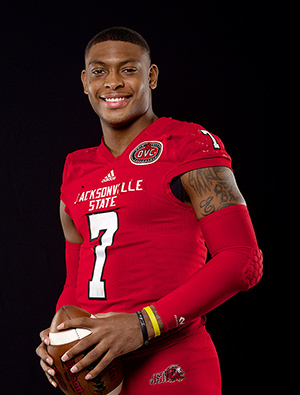 Eli Jenkins, Gamecocks QB, in his football uniform in 2016.
Fortunately, for Jenkins and other students and alumni facing an uncertain future and job market, JSU Career Services has numerous programs aimed at answering that very question. "Some people do care about you and your future," said the 25-year-old Jenkins.
With the help of Career Services Director Becca Turner and advisor Todd Wilson, Jenkins found a second career with Anniston's M&H Valve manufacturers. On Aug. 26, he started off as a sales trainee. Today, he's the district sales manager for Arkansas and Oklahoma.
"Instead of throwing footballs, I'm selling fire hydrants," Jenkins said. "I'm excited about the future."
Students attend college with a very simple goal – finding a job, or more specifically, a career and a future. Career Services is there to help achieve that goal. "We want students to earn a degree, gain experiences, market themselves and graduate career ready," Turner said.
Any student at any level can become involved with Career Services. For example, an incoming freshman unclear of which degree or courses to pursue is an ideal candidate for career assessments and advising. Seniors often need help with resume writing or professional correspondence guidance.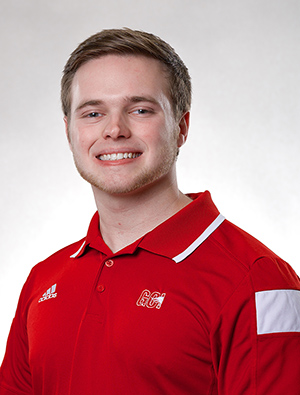 Blake Wilson in his official Gamecock Orientation portrait in 2016.
Blake Wilson first learned about Career Services when touring JSU. As a student, he attended Career Services-sponsored events and heard staff members speak at Student Alumni Association meetings.
"I really began to utilize them in the summer of 2016 while I was a Gamecock Orientation coordinator and I was starting to think about life after graduation in the fall," said the now 24-year-old Wilson. "I should have been going to them much earlier than that."
As students prepare to enter the job market, they need to maximize their skills to stand out from other applicants. To do that, Turner suggests students take certain steps:
1. Reflect on the job experiences, their versatility and develop accomplishment statements. "If a student response is 'I didn't really do that much' when asked about their internship experience, then I ask them to tell me about what they accomplished in a week, who they reported to'," Turner said. "There's usually more to an experience than one might think. It takes time and energy to think about those nuggets of information. We are here to support this process and resume development, as well as with interview preparation for professional schools."
2. Everyone has natural abilities, but students often have trouble selling themselves to a potential employer. The best way to discover and develop self-awareness is by using the TypeFocus career assessment in Career Services. "TypeFocus provides students with unbiased clarity of their strengths, blind spots, values, motivators (interests) and personalities," Turner explained. "TypeFocus matches the self-assessment results with occupations and JSU programs that provide the education and training to qualify for corresponding occupations."
3. Utilize the free online LinkedIn Learning courses offered to all students and employees. Students can access some of the short instructive videos on LinkedIn Learning, accessible through their MyJSU.com account. To narrow students' focus on the Linkedin courses, Turner suggests courses that offer basic development or project management, business courses, enhanced tech skills – such as Microsoft Office and pivot tables. Other skill sets employers seek are creativity, adapting to change quickly and teamwork.
Learning how to tailor a resume specifically for the job being applied for is one of the most important lessons Wilson took away from Career Services. When he applied for a job with the Federal Deposit Insurance Corporation (FDIC), he used language to mirror the skills, education and experience the job posting requested. More than 1,200 people applied and approximately 70 people were invited to the second round – Wilson landed the job.
"Knowing the helpfulness of the staff, I can tell you they will do everything they can to help a student find a job," Wilson said.
For recent college graduates, the job market in 2020 is shaping up to become one of the worst in recent memory. The payroll processing company ADP said on May 6 that the private sector lost more than 20 million jobs in April, with the cuts spread across every sector and size of employer.
"The job search can take a while for a new graduate, so don't get discouraged. Just take your time, be diligent on applications, and be open to opportunities outside what you think you want to do."
--Becca Turner, Director
JSU Career Services
To fully grasp the economic catastrophe in the making, consider: In the worst month of the last recession, the US lost 800,000 jobs. The worst monthly loss on record was nearly two million jobs in September 1945.
"Graduating in the age of COVID-19 has the upcoming graduates uncertain and stressed," Turner said. "Therefore, graduating seniors are having to shift their focus from companies that they may have had their heart set on, that are now being overturned or reconfiguring how they are doing things, to companies that are hiring."
While working remotely has become the new normal for some, others have found themselves unemployed or underemployed with more time on their hands, time that can be useful.
"I recommend earning badges or certifications through free online platforms," Turner said. "Employers are not only attracted to lifelong learners, but for employees to creatively problem solve, be teachable and adaptable."
To JSU students entering the job market, Wilson stresses patience and being open to different opportunities.
"Don't be afraid to ask for help. Millions have been in your shoes. It's ok. Even though you learn a lot in college, the real world is still different. Especially if you're not prepared."
--Eli Jenkins, JSU Alumnus
District Sales Mgr., M&H Valve
"You may not find a job right away, and that's okay," Wilson said. "The job search can take a while for a new graduate, so don't get discouraged. Just take your time, be diligent on applications, and be open to opportunities outside what you think you want to do. We all have an idea of what we want to do, but don't let that get in the way of a great opportunity just because it isn't exactly what you envisioned."
For one who's been through the challenge and come out the other end, Jenkins has some advice for graduates.
"Don't be afraid to ask for help," Jenkins said. "Millions have been in your shoes. It's ok. Even though you learn a lot in college, the real world is still different. Especially if you're not prepared."
---
Coming Up...
Career Services will be hosting a virtual event: Build Your Professional Brand Using LinkedIn and LinkedIn Learning, on Thursday, May 14, at 2 p.m. Those interested can join using a PC, Mac, iPad, iPhone or Android, using the password "312312." It's open to all students, alumni and employees.