JSU Style Guide
Standards are vitally important in establishing and reinforcing the JSU identity. Because the first formal contact many people have with JSU is through printed and online materials, it is important that these materials project a consistent and readily-identifiable image. Use of multiple identifying symbols fractures this identity, creates brand confusion, and results in a negative impression of the university on the part of our many constituents.
This style guide addresses the components of JSU's visual identity, and lays out specifications for enhancing it. Questions regarding its use
may
be directed to the Office of Marketing Services at 304 Angle Hall, 256.782.5830 or e-mailed to
styleguide@jsu.edu
.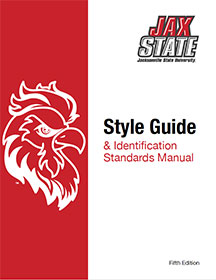 Click to Download JSU Style Guide