Ashley Turner, Ph.D.
Assistant Professor
Martin Hall 124A
256-782-8642
anturner@jsu.edu 
Dr. Turner is a geneticist, molecular biologist, and teacher-scholar in the Department of Biology. Her teaching endeavors include offering unique research and learning opportunities to students through course-based undergraduate/graduate research experiences (CUREs and CGREs), mentored research experiences, and other biology courses. Her research interests focus on two main areas: 1) biology and genetics research and 2) biology education research. Additionally, she is a strong advocate for students and diversity and inclusion.
Dr. Turner leads a team of student researchers in The Worm Hole, a research lab utilizing the microscopic roundworm C. elegans as a model system for exploring gene function and evolution and molecular mechanisms of disease. Her current research interests involve the interplay between genetics, metabolism, aging, and neurodegeneration. She supports a wide range of research in The Worm Hole and welcomes student projects from all aspects of molecular genetics, both basic and translational.
Dr. Turner's biology education research interests include investigating the structure and impact of course-based research experiences. She uses this research to better understand how biology students think, engage, learn, and benefit in CUREs/CGREs and how herself and other instructors can develop more effective ways to teach in these unique learning environments.
If you are interested in joining The Worm Hole, please send a short introduction of yourself and your resume/CV in an email to Dr. Turner. The short introduction should highlight your research interests and how you see those intersecting with The Worm Hole.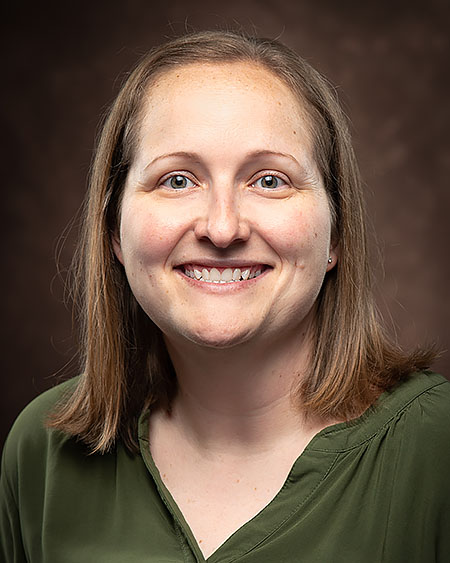 Courses Offered
Genetics Course-based Undergraduate Research Experience (CURE) – BY 322
Directed Studies in Biology – BY 327
Discovering Genomics & Bioinformatics – BY/CS 340
Biology Internship - BY 397
Independent Studies - BY 427
Advanced Topics in Biology: Bioethics of Genome Editing – BY 480
Laboratory Practicum I/II – BY 488/489
Senior Seminar – BY 496
Special Problems in Biology - BY 503
Problems in Biology – BY 504
Molecular Genetics Course-Based Graduate Research Experience (CGRE) - BY 546
Seminar in Genetics & Course-based Graduate Research Experience (CGRE) – BY 575
Research Project – BY 595
Thesis Research - BY 596
Thesis Research - BY 598
Honors Book Club - UH 202
Education
Postdoctoral Fellow, American Association of University Women, University of Alabama at Birmingham
Ph.D., Genetics, Genomics & Bioinformatics, University of Alabama at Birmingham

Dissertation Title: Novel insights into neurofibromin function and human neurofibromatosis type 1 mutations using genetically engineered mouse models

M.S., Biology, University of West Georgia

Thesis Title: Molecular genetic variation in subspecies of circumtropical needlefish Platybelone argalus

B.S., Biology, University of West Georgia
Other Connections
Student Advisor & Mentor
Pre-Health Advisory Committee Faculty Member
JSU Diversity & Inclusion Committee
JSU LGBTQ+ Faculty & Staff Collective Steering Committee Treasurer
Safe Zone Team