Climb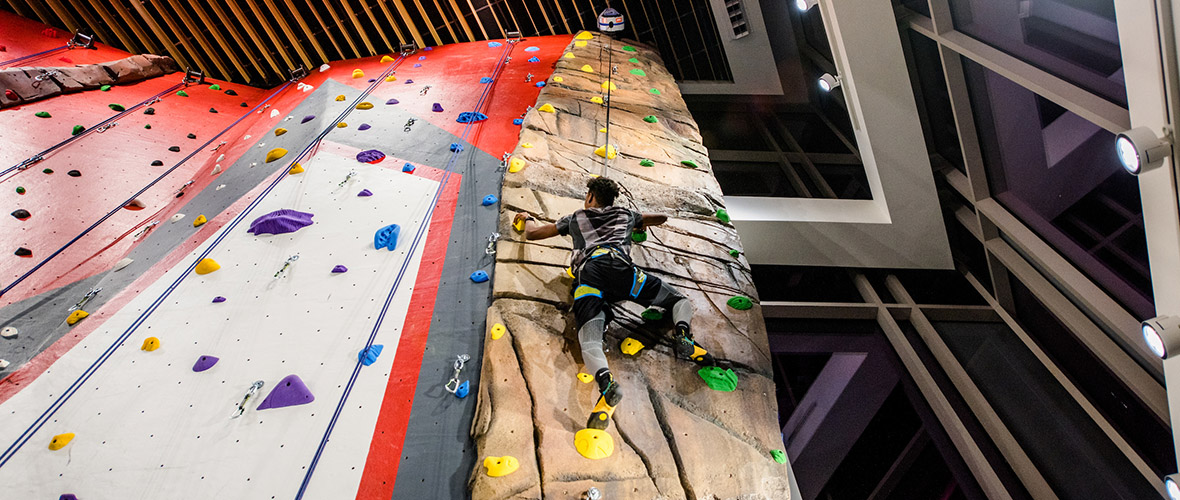 Come climb with us!
Our 43' ft climbing wall offers members the opportunity to rock climb year round indoors while hanging high. The climbing wall features bouldering wall, auto belay, top-rope and lead climbing options for the beginner to the advanced climber. We offer open recreation, belay clinics, special events and are also available for group rentals. Harnesses, climbing shoes and other equipment are all available to participants at the Welcome Desk. Come try this exciting activity and find a great place to have fun and meet new people.
Climbing Wall Hours
The Climbing Wall will be closed January 3 - 5 for floor maintenance.
Normal hours of operation for the climbing wall are:
Sunday - Thursday 1 - 9pm
Friday & Saturday 1 - 8pm
Belay Fundamentals
Belay Fundamental classes will resume on January 13, 2020.
Belay Fundamental classes are offered every Monday – Thursday at 6pm.  Classes will cover the PBUS method and other belay fundamentals.
You can test-out on your belay skills anytime the wall is open.  Participants cannot belay until passing a test-out.
Climbing Events
Crimp Cafe
Tuesday, April 21 7am - Noon
Climb and grab a coffee for a pick me up before you dive into finals. No need to register just drop in.