Financial Resources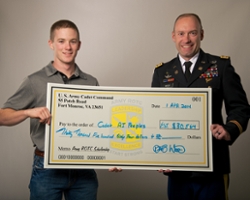 Whether you are a college-bound high school student or already attending a college or university, Army ROTC and JSU ROTC have scholarships that are available. Scholarships are awarded based on a student's merit and grades, not financial need.

Army ROTC Scholarships consist of:
Four-, three-, and two- year scholarship options based on time remaining to complete your degree
Full-tuition scholarships
The option for room and board in place of tuition, if you should qualify
Additional allowances for books and fees
Apply online at www.goarmy.com/rotc/scholarships.html 

JSU ROTC offers 4 different scholarships:
If you want to pursue a civilian career at the completion of college and still participate in a Reserve Component, you may be eligible for a Guaranteed Reserve Forces Scholarship or Dedicated Army National Guard.
Up to 2 years of tuition or Room/Board (GRFD)
Up to 3 years of tuition or Room/Board (DEDANG)

Monthly living allowances:
If awarded a scholarship or contracted, Army ROTC also provides monthly living allowances per month depending on your level in the Army ROTC curriculum:
MSI - $300, per month / MSII - $350, per month
MSIII - $450, per month / MSIV - $500, per month