John M. Beehler- 2015-Present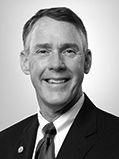 Following a national search, the JSU Board of Trustees named Dr. John M. Beehler JSU's 12th president on May 8, 2015. He assumed the presidency on July 1, 2015.
Beehler brought to Jacksonville State more than 20 years of experience in a wide range of higher education leadership positions. Most recently, he was dean of the School of Business at Robert Morris University in Pittsburgh. He previously served as founding provost and vice president for academic excellence and student success at the University of North Texas at Dallas, associate provost for economic initiatives and dean of the College of Business at Northern Kentucky University, dean of the School of Business at Wichita State University, and associate dean at the University of Texas at Arlington. 
A certified public accountant, Beehler has significant experience in college and university accounting and auditing. He is a graduate of the Harvard Institutes of Higher Education Management Development Program and the American Academic Leadership Institute's Executive Leadership Academy. He earned a Bachelor of Science in accounting from The Pennsylvania State University and an MBA in finance and Ph.D. in accounting and taxation from Indiana University. 
President Beehler and his wife, Dr. Pamela Beehler, have been married for 40 years. Dr. Beehler has had a distinguished academic career in her own right. She holds a Ph.D. in human performance from Indiana University and has more than 30 years of university teaching and research experience. She is a former Penn State basketball and softball player. The Beehlers have one daughter who graduated from the U.S. Military Academy at West Point and served as a Captain in the U.S. Army with two deployments to the Middle East. She is currently an MBA candidate at Texas Christian University.