Dr. William A. Meehan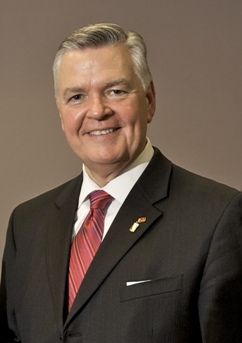 William A. Meehan has a long-term association with Jacksonville State University that began when he enrolled as a first-time freshman in 1968. He completed his Bachelor of Science in biology in 1972 and began a career in education that same year. He earned his Master's of Science degree in biology at Jacksonville State University in December of 1976 and returned in January 1977 to serve as an instructor in the Department of Biology. He completed a Doctorate of Education in the field of higher education administration from the University of Alabama.

Prior to becoming president, Dr. Meehan served in numerous administrative and teaching positions at the University. Among these are Coordinator of Medical Technology Program, Director of Academic Advisement, Assistant Vice President for Academic Affairs, Associate Vice President for Academic and Student Affairs, Acting Vice President for Academic Affairs and Acting Vice President for Institutional Advancement. He assumed the helm as president on July 1, 1999.

Dr. Meehan's expansive vision for JSU includes looking to the future while drawing on the strengths of the past. A top goal is knocking down the walls of the ivory tower through such innovations as distance education. Through the Internet, DVD, and videoconferencing initiatives, the University is able to make a college education more accessible to those who work, or who for other reasons are not able to reside on or near the main campus. Under Dr. Meehan's leadership, JSU is extending classrooms and removing barriers to a college degree.

President Meehan says JSU has a bright future, one that depends in large part on gaining more cooperation among the institutions of higher education, such as the state's community colleges. Dr. Meehan wants to turn JSU into a campus where education can be seen as a seamless process flowing from kindergarten through graduate school.

Overseeing the development of the University's first strategic plan, Dr. Meehan says that JSU will more accurately accomplish the institution's mission, which means integrating traditional academic programs with career-oriented programs for students. His vision for the future is based on the philosophy that education is a utility for economic development.

Dr. Meehan has been, and continues to be, very active in numerous civic organizations. He has been an executive committee member of the Board of Directors of the United Way of East Central Alabama, and is involved in the area Chambers of Commerce of both Calhoun and Etowah Counties. He is a member of the First Baptist Church of Jacksonville, Alabama, and is married to the former Elizabeth Stevens. Together they are the parents of twin boys, Drew and Will, and a daughter, Carol Grace.