Collaborate Ultra
Collaborate Ultra is the newest version of Blackboard Collaborate. With most of the original tools and capabilities, Ultra has a new and sleeker look and feel. Most notably, there is no need to use the Bb Collaborate Launcher or Java. Collaborate Ultra opens quickly and directly within a browser window. Collaborate Ultra Mobile apps have added functionality as well.
To get started using Collaborate Ultra, go to any of your Blackboard course shells. Ultra is ready to go.
IMPORTANT!- On April 28, 2017, Bb Collaborate Original and all associated recordings will no longer be available. See the instructions below for information on archiving recordings.
Collaborate Ultra interface-
Try Collaborate Ultra!
Collaborate Ultra has all of the features of Collaborate Original but in a new contemporary and more reliable interface. No launcher is needed as Collaborate Ultra opens directly in a browser window. Apps are available for mobile devices too.
Collaborate Ultra!-
Integrated with Blackboard
No Downloads (opens in browser)
New Simplified Interface
Faster and Improved Reliability
More Secure
Same features as Original (Break-out Rooms, Whiteboard, Recording, etc.)
See Blackboard Collaborate Ultra Features
Review the new interface: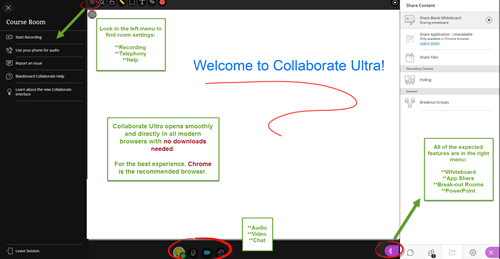 Click image for larger view.
Set-up Collaborate Ultra in a Blackboard Course
Bb Collaborate Ultra is available within any Bb shell. Follow these set-up instructions to start using Bb Collaborate Ultra.
Step 1- Enter the Collaborate Ultra Console
Navigate to Course Tools, and click on Blackboard Collaborate Ultra. A tool link may also be added to the left menu and/or any content area.
Click image for larger view.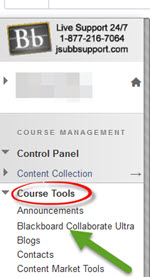 For more information, see- Schedule Sessions in Blackboard
Step 2- Review Collaborate Room Settings
Look through the options and choose proper settings.
Click image for larger view.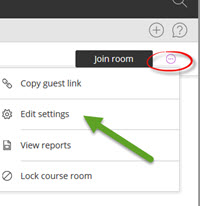 For more information, see- Session Settings
Step 3- Enter Room

For more information, see- Collaborate Basics
Collaborate Ultra Tutorials
Archive Collaborate Original Recordings
Step 1- Navigate to a Blackboard Course Containing Recordings.
Step 2- Enter the Bb Collaborate Recording Console.
Step 3- Convert Recordings.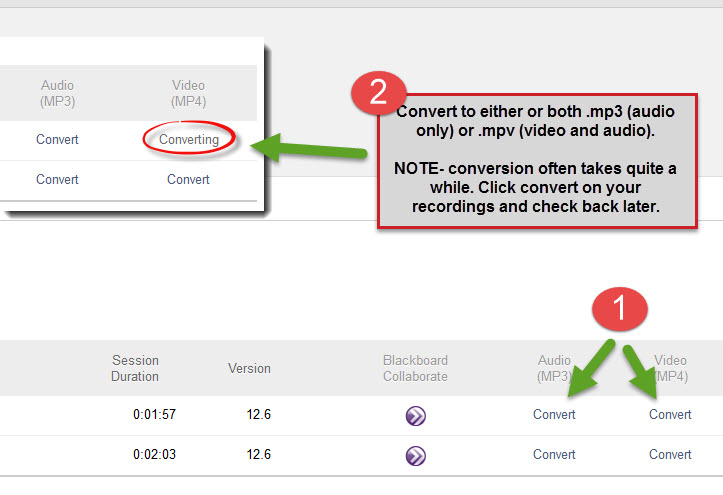 NOTE- Native Collaborate files will no longer be of any use. Convert recordings to .mp3 (audio only) and/or .mp4 (audio and video).
Step 4- Download Recordings to Local Computer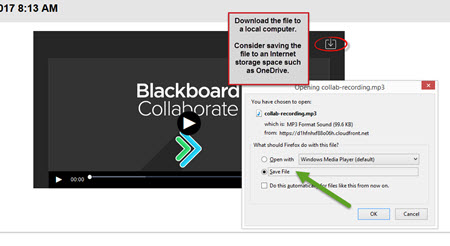 Step 5- Use Saved Collaborate Recordings
If the recording is to be viewed by others for future needs, it must be placed in an Internet available location. There are many options for locating the recording such as YouTube, Vimeo, or OneDrive. Upload the recording to a service and place a link to the recording within Blackboard.
For more information see:
Convert Collaborate Recordings
Transition Time Line
March 27, 2017- Collaborate Original Recordings should be converted to .mp4 and downloaded. If there are Collaborate Original recordings you wish to preserve, convert these to .mp4 and download to a local space. See Convert Collaborate Recordings
April 28, 2017- Collaborate Original and associated recordings will be no longer available.