For Athletic Use Only

| | |
| --- | --- |
| | |
---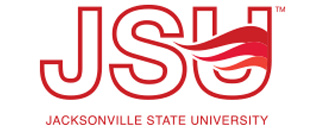 This logo is to be used for all non-athletic marketing.



November 13, 2002 -- The Publications Office reports some confusion about logo usage following the University's introduction of new athletic logos. Unless your organization is involved in athletics, the standard logo is the one to use. If you have any question about which logo is appropriate, please contact Mary Smith, publications coordinator, at Ext. 5830.

In addition, when ordering merchandise, be sure to use a licensed vendor. If you have questions about this, please call Mary Smith.

The following information comes from a release published in the Jacksonville News:

Athletic Director Tom Seitz unveiled new athletic logos and word marks recently at JSU's annual basketball media day.

"We wanted to create a consistent, action-oriented brand that represented the JSU athletic program," Seitz said. "In the past, our word marks and logos have varied considerably from one sport to the next. This will give us one consistent look across the entire program."

New word marks using a consistent typeface have been created for every sport and a traditional Gamecock has been structured with new JSU word marks to form the primary logo. In addition, a secondary logo features a new Gamecock with a frontal view, surrounded by Jacksonville State University and the word Gamecocks.

Phoenix Design Works, based in New York City, was selected to create the new logos and identity program. Phoenix has designed logos on both a national and international basis for clients such as AT&T, Coca-Cola, Reebok, Sony, Major League Baseball, National Basketball League, Major League Soccer, NASCAR and many college and university athletic programs. In conjunction with the new marks, Seitz also announced pending plans for a department-wide agreement with Adidas as the program's official provider of shoes, apparel and uniforms.

In addition to supplying the needs for JSU teams, Adidas merchandise with the new JSU logo and word marks will be also available to fans through the athletic department and online through the Gamecock Shoppe.