| | |
| --- | --- |
| Office of Public Relations | |
Need Help?
Campus Communicators
Find An Expert
Submit News
Campus Events
Goodies
JSU Blogs
Emergency Center
Days of Rememberance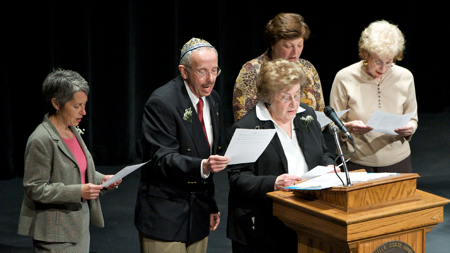 Each year, the university community comes together to participate in the September 11 and Holocaust Remembrance Services. The September 11 service is held on the lawn in front of Bibb Graves to honor and remember those who lost their lives in the terrorism attacks in New York, Washington and Pennsylvania on September 11, 2001.  The occasion includes local military, fire and rescue ceremonies as well as speeches by area dignitaries, followed by prayer and the playing of Taps. The Holocaust Remembrance Service takes place each spring and honors the memory of the millions of Jews who perished in concentration camps during World War II. A Holocaust survivor speaks, and the winners of K-12 Holocaust remembrance writing and speaking contests share their writing. Both events are very close to the hearts of JSU faculty, students and staff and are always well attended.