JSU Signs Transfer Agreements with Alabama Community Colleges
JSU Signs Transfer Agreements with Alabama Community Colleges
07/31/2017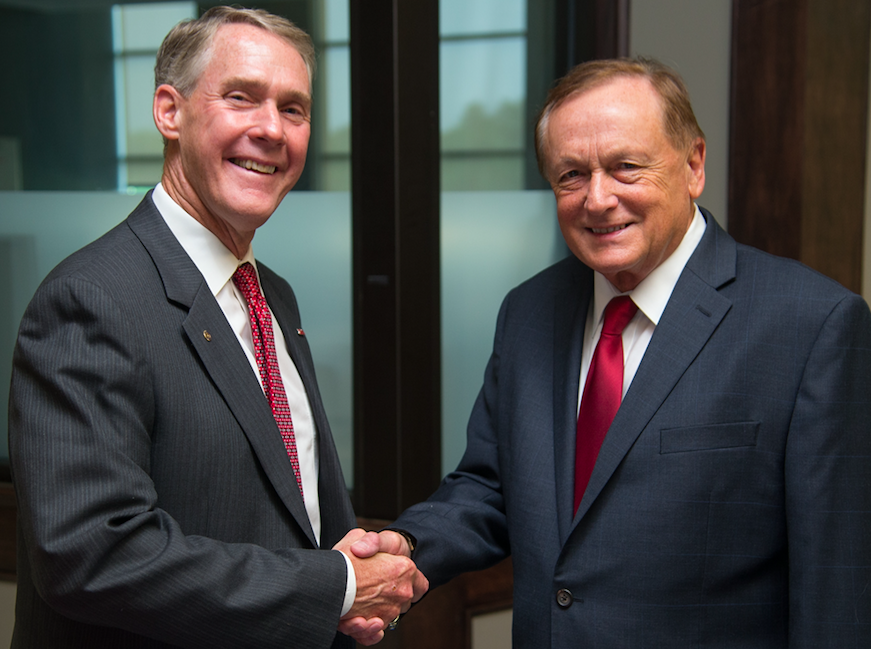 Presidents John Beehler (JSU) and David Campbell (NACC) signed a formal agreement on July 26.
Jacksonville State's new Transfer Pathway Program is signing agreements with community college partners to better support students interested in transferring to JSU.
In April, the university signed an agreement with Gadsden State Community College while, in July, it formed a similar partnership with Northeast Alabama Community College in Rainsville. Later this month, an agreement will be signed with Southern Union State Community College at its Wadley campus. 
JSU's Transfer Pathway Program is aimed at significantly increasing the transferability of students from community colleges throughout the state of Alabama, regionally and nationally. The pathway model allows students to enroll in specific courses at the community college level that will better prepare them for the major they wish to pursue at JSU.
Dr. Jean M. Pugliese, executive director of the Transfer Pathway Program, stated, "JSU wishes to recruit high quality students from community colleges, and more importantly, JSU wants these students to have a positive experience as they progress and eventually graduate from JSU."
In March, the program hosted its first Transfer Preview Day while, in July, it hosted its first Transfer Orientation. Both pilot events were a huge success. JSU's Alumni Office has also joined forces with the Transfer Pathway Program to promote its implementation and create interest among potential students in the communities where alumni live and work.
Increasing the enrollment and retention of transfer students is one of the goals set forth in JSU's strategic enrollment plan. For more information about the Transfer Pathways Program, please contact Dr. Pugliese at pugliese@jsu.edu.