Jacksonville State University Announces 2017 Spring Commencement
Jacksonville State University Announces 2017 Spring Commencement
04/21/2017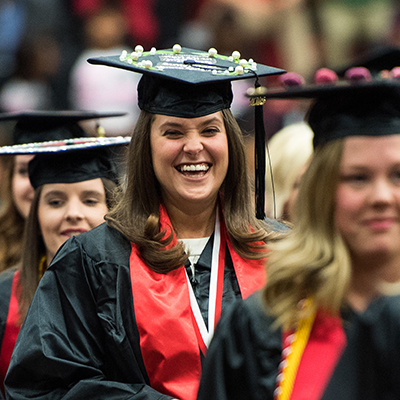 The JSU alumni family will grow on April 28, 2017 when spring commencement takes place.
Jacksonville State University announces spring commencement have been set for Friday, April 28, at the Pete Mathews Coliseum. 
Ceremony times will be:
Watch the Live Stream of the Commencement Ceremonies
Ample seating, including accessible, is available at the Coliseum for family and guests of the graduates. Accessible parking is available in the parking lots on the north and south sides of the building. Captioning services for the deaf and hard of hearing will be available at the north end of the Coliseum. ASL interpreting will be provided on stage. 
For guests who cannot attend the ceremonies, commencement will be televised live on WEAC-TV24 (local Cable One Channel 9). Companies with TV 24 include Cable One (Anniston, Oxford, Munford, Pell City, and Jacksonville); Charter (Piedmont, Southside and Heflin); Leesburg Cable; Collinsville Cable; Lookout Cable (Gaylesville); and Cherokee Co Cable (Centre).  Family and friends can also view the graduation ceremony live from their home computers.  
More Graduation Information Here