Board of Trustees Meeting Recap
Board of Trustees Meeting Recap
05/01/2017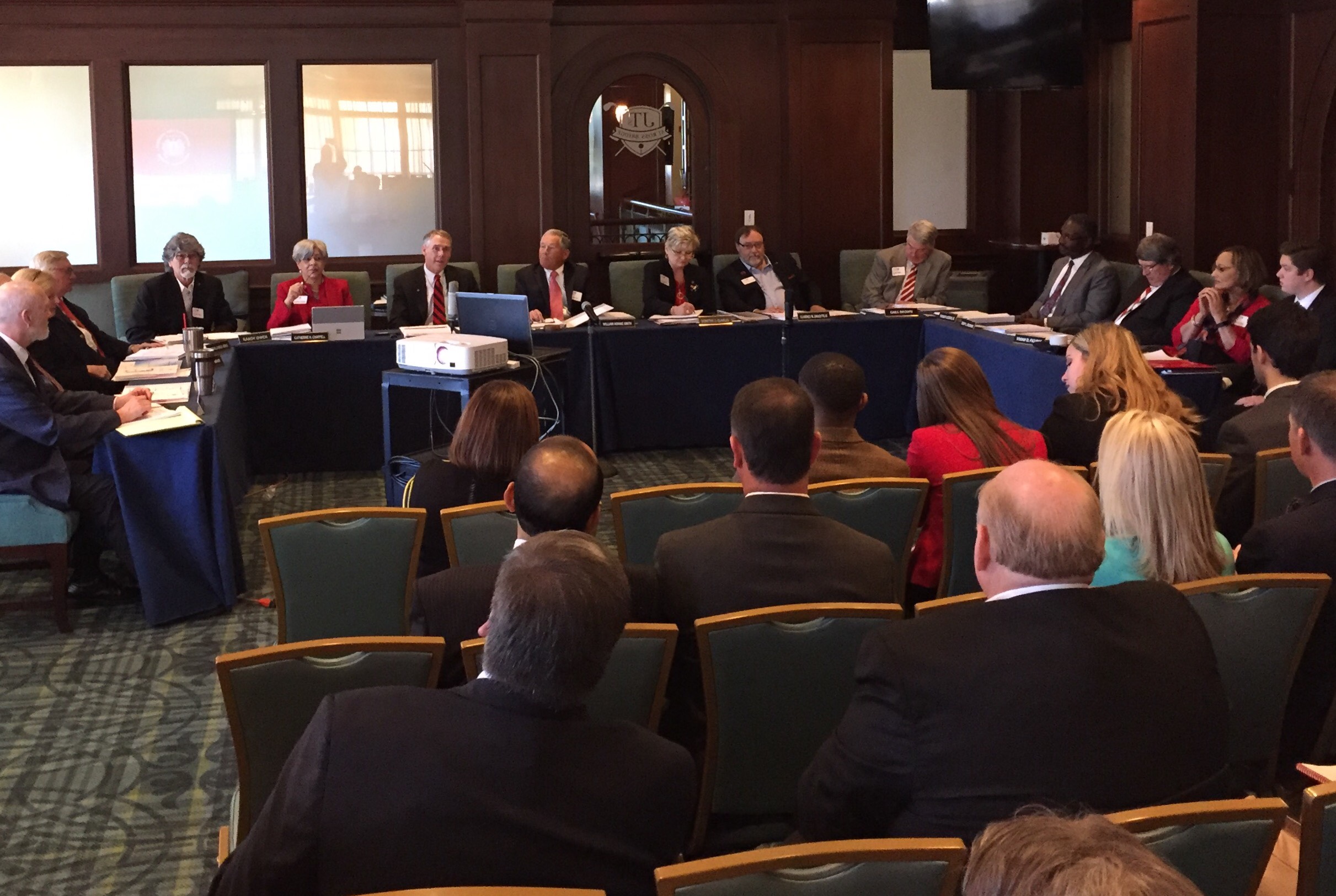 The trustees met offsite at the Renaissance Ross Bridge.
The quarterly meeting of the Jacksonville State Board of Trustees was held on May 1 at Renaissance Ross Bridge Resort in Hoover, following a weekend board retreat. The new SGA executive board was introduced, with President Ranger Rumrill serving on the panel for the first time.
The main action items came out of the Athletics Committee. The board voted to change the university's new athletic fee from a flat $50/semester to a $6/credit hour charge. Board member Thomas Dedrick, chair of the Athletic Committee, said the move will reduce costs for part-time students. Rumrill expressed concerns that, for full-time students, the change increases the athletic fee. JSU has the lowest athletic fee of its peers in the Ohio Valley Conference.
The board also approved a plan to replace the scoreboards at the football, baseball, softball and soccer fields, as well as add a scoreboard to the recently upgraded tennis complex, to improve the game day experience. Athletics said the new boards will allow for in-game promotions, graphics, replay bumpers, marketing entitlements and digital ads. The $1.1 million project will be funded by the university but repaid by Athletics over the next 10 years by sports sponsorships and revenue. 
The Athletic Committee also recognized two Gamecock coaches. Baseball coach Jim Case was honored for surpassing 500 career wins, including defeating the University of Alabama twice this season. Men's basketball coach Ray Harper was honored for leading the Gamecocks to their most successful season since joining Division I, culminating with its first NCAA tournament appearance in March.
In other news, the board voted to accept the university's audited annual financial statements. For the first time, the audit was performed by an outside accounting firm, CDPA, PC of Athens, Ala.
The next board meeting will be held on campus on July 25.