A Cappella Choir and Calhoun County Civic Chorale Present Spring Concert on April 2
A Cappella Choir and Calhoun County Civic Chorale Present Spring Concert on April 2
03/15/2017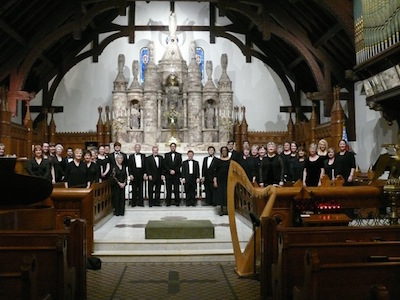 On Sunday, April 2, 2017, the Jacksonville State University A Cappella Choir and the Calhoun County Civic Chorale will join forces to present their spring concert at 3 p.m. at First United Methodist Church in Anniston.
The featured works are Franz Joseph Haydn's "Missa in Angustiis in D Minor," better known as the "Lord Nelson Mass," and Vaughan Williams "Serenade to Music."
Austrian composer Franz Joseph Haydn (1732-1809) composed the "Missa in Angustiis" ("Mass in Time of Distress") for the Hungarian Esterhazy family in 1798 during the Napoleonic wars. It has been nicknamed the "Lord Nelson Mass" due to Haydn's admiration of the British Admiral and his victory at Aboukir against Napoleon around the time of the first performance. 
British composer Ralph Vaughan Williams (1872-1958) wrote "Serenade to Music" in honor of the Jubilee celebration of conductor, Sir Henry J. Wood. The text is taken from Act V, Scene 1 from William Shakespeare's "The Merchant of Venice."
The choirs are under the direction of Dr. Patricia Corbin, JSU director of choral activities, and will be accompanied by an orchestra of professional and student instrumentalists, as well as the choir's accompanist Dr. LornaLee Curtis. Members of A Cappella Choir and Civic Chorale will also be featured soloists on the program. The A Cappella Choir and the Calhoun County Civic Chorale are two of six choirs sponsored by the David L. Walters Department of Music.

The First United Methodist Church is located at 1400 Noble Street in Anniston. Tickets will be $8.00 for general admission and $5 for students/youth with ID or ages 17 and under. Tickets will be sold in advance in the JSU David L. Walters Department of Music or at the door.
For more information, please contact Dr. Corbin at pcorbin@jsu.edu or 256-782-5544.