JSU UPD Officer Receives Gold Medals and Second House Resolution
JSU UPD Officer Receives Gold Medals and Second House Resolution
06/27/2016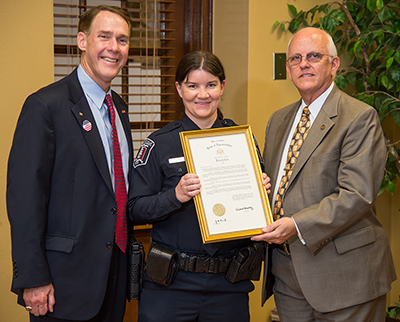 On Thursday, June 23, Jacksonville State University Police Officer Elizabeth Hill Morrow was honored for her professional and personal accomplishments at the 2015 United States Police and Fire Games in San Diego and the 2015 World Police and Fire Games in Fairfax, Va.
Morrow's participation in this event generated national and international recognition for the State of Alabama, Jacksonville State University and the University Police Department. She competed in a total of five individual events and received a total of five Gold Medals.
In a small ceremony held in the Gold Room in Bibb Graves Hall on the JSU campus, State Rep. K.L. Brown, R-Jacksonville, presented Morrow with a 2016 Alabama House Joint Resolution. This was Morrow's second time to receive a House Resolution for her participation in this event. 
JSU President John Beehler expressed his appreciation for Morrow and upheld her as an ideal employee. University Police Chief Shawn Giddy stated how pleased he was to have someone like Morrow on the force. Among those in attendance at the presentation were Morrow's husband, Fred, and her parents, Richard and Mary Hill.
Jacksonville State University is proud of Office Morrow's accomplishments and wishes her the best in all of her future endeavors! 
Photo: Dr. John M. Beehler, Officer Morrow, and K.L. Brown (courtesy Matt Reynolds/JSU).