UA's Dr. Duncan Yoon to Present Lecture on Growing Up Chinese in South Africa
UA's Dr. Duncan Yoon to Present Lecture on Growing Up Chinese in South Africa
02/16/2016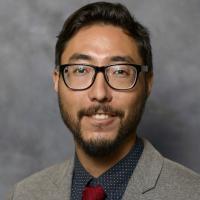 Dr. Duncan McEachern Yoon (courtesy)
"Paper Sons and Daughters: Growing up Chinese in South Africa" will be the topic of a Feb.17 lecture and book discussion by Dr. Duncan Yoon of the University of Alabama, Tuscaloosa. The event will take place on the 11th floor of the Houston Cole Library at 4:30 p.m.
Dr. Duncan McEachern Yoon is an assistant professor of English at UA. He has an MA from Dartmouth College and a Ph.D. in Comparative Literature from UCLA. He served as a Fulbright Scholar to South Korea in 2004. His research interests include Africa and China cultural relations, the Cold War, postcolonialism, diaspora, and world literature. He is also the co-director of the Global South Cultural Dialogue Project.

The event is organized by the English Department and Faculty Commons at JSU.