Explore Job Opportunities at the Spring Career Fair on March 2
Explore Job Opportunities at the Spring Career Fair on March 2
02/29/2016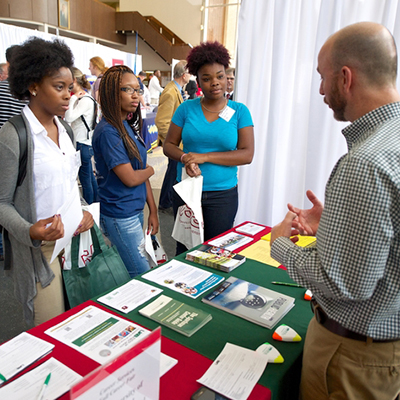 Students explore their options at the JSU Career Fair. (Steve Latham/JSU)
Dust off your résumés, Jacksonville State! It's time for the Spring Career Fair. JSU Career Services will present the annual opportunity for JSU students to connect with possible future employers on Wednesday, March 2 from 9 a.m. - 1 p.m. in the Merrill Hall Atrium. Following the fair at 1:30 p.m. in Room 261 Merrill Building, the State of Alabama Personnel Department will conduct a workshop, "How to Apply for State Jobs."
Thirty-eight organizations/agencies/companies have signed up to recruit JSU students and alumni at the Career Fair.  The following are recruiting students of all majors:

• Cheaha Regional Head Start
• Chick-fil-A, Quintard Mall
• Enterprise Rent A Car
• JSU Graduate Studies
• JSU Housing & Res Life 
• Jefferson Co. Sheriff's Office
• Landstar
• Memphis Police Department
• Montgomery Police Department
• Personnel Board of Jefferson County
• Pinnacle Financial Group
• ROTC
• Sherwin Williams
• State of Alabama Personnel Department
• State of Alabama Probation & Parole
• Target Distribution
• U.S. Army
• Waffle House
• YMCA Camp Cosby
• YWCA Central Alabama
Students may download How to Make the Most Out of a Career Fair to prepare for the event.
To view a complete listing of the companies attending the event & the type of positions each will be recruiting for, visit the Career Services Events page.
This is the last one-stop-shop hiring event, prior to graduation in April.  Attendees should dress professionally and bring multiple copies of their résumés.
Coming Up...
Fourth Annual Education Fair, A Reverse Career Fair
for Teacher Candidates Graduating Fall 2015 and Spring 2016
April 15, 2016   8 a.m. - 4 p.m.
Leone Cole Auditorium
Registration required by March 31, 2016.